About Councilmember Ward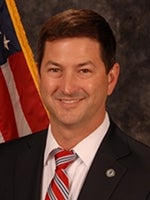 Councilmember Chris Ward was elected to represent San Diego's 3rd City Council District in June 2016, and took office in December of 2016. He serves as Chair of the Economic Development and Intergovernmental Relations Committee and Chair of the Select Council Committee on Homelessness, Vice Chair of the Budget and Government Efficiency Committee, and as a member of the Infrastructure and Rules Committees, as well as serving as the Vice Chair of the San Diego County Regional Task Force on the Homeless.
He previously served as the Chief of Staff to State Senator Marty Block, also representing the communities of the Third City Council District and most of the City of San Diego. In these capacities, Chris has been strongly committed to excellence in constituent services, facilitating public participation in policymaking, and organizing state and local resources to make our neighborhoods a better place every day.
Previously, Chris was an environmental planner at the firm EDAW, working with local government to develop land use plans and conduct environmental review. Before dedicating a career to public service, Chris worked as a researcher at the Ludwig Institute for Cancer Research at UCSD on the front lines of San Diego's burgeoning biotech sector.
Councilmember Ward has been active in the community through volunteer services for many years prior to taking office, serving on his community planning group and the San Diego Community College District's Citizens Oversight Committee. Chris has been a member of the San Diego Human Dignity Foundation board of directors facilitating endowments and providing philanthropy for LGBT Youth, HIV/AIDS, senior and other nonprofit organizations as well as a member of the San Diego LGBT Center Board of Directors. He served on the San Diego GLBT Historic Task Force, volunteered with a number of other organizations, and was accepted in the Truman National Security Project Class of 2015 Partners.
Chris earned his Bachelor of Arts degree at Johns Hopkins University and a Masters in Public Policy and Urban Planning at Harvard's John F. Kennedy School of Government. He and his partner Thom are homeowners in University Heights with their daughter, Betty and cairn terrier, Monty.