Harbor Drive Pipelines Replacement Project
Project Background
The City of San Diego is working to improve its drinking water system and the overall quality of life for residents, businesses and visitors alike. To that end, the City mandates the replacement of all aging and deteriorating cast iron pipelines (water mains). This project is part of an ongoing City improvement program to help eliminate water main breaks and improve water service. The City's ongoing water pipeline replacement program helps San Diego better serve its communities, improve service reliability, reduce maintenance needs, and reduce the risk of future water main breaks.
The Harbor Drive Pipelines are located in the Midway/North Bay and Peninsula Communities Planning Areas of City Council District 2. Project pipelines serve the western most part of University Heights and the northern section of east Point Loma pressure zones; and they provide backup service (redundancy) to one another.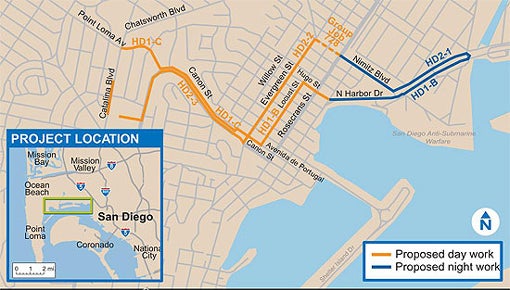 The project replaces two sixteen-inch diameter water mains installed in the 1940s and 1950s with new sixteen-inch polyvinyl chloride (PVC) water mains. It replaces 4.4 miles of cast iron pipelines that have reached the end of their useful life. The project excludes segments of pipeline replaced by earlier City Public Utilities Department projects.
The project will replace water mains within the following locations:
Avenida de Portugal (Locust to Willow)
Caton Street (Evergreen St. to Pt. Loma Community Park, near Ulman St.)
Catalina Boulevard (a portion between Hill St. and La Paloma St.)
Evergreen Street (Caton St. to Nimitz Blvd.)
Hugo Street (N Harbor Dr. to Locust St.)
Locust Street (Hugo St. to Avenida de Portugal)
Nimitz Boulevard (Rosecrans St. to N Harbor Drive)
North Harbor Drive (Chauncey Road to Hugo St.)
Point Loma Avenue (Caton St. to Catalina Boulevard)
The new PVC water mains will be installed using open trench construction methods in public streets and roadways. To avoid service interruptions and minimize traffic impacts, the project will coordinate with Cabrillo Elementary School, Dana Middle School, Point Loma High School, High Tech High School, San Diego International Airport, the U.S. Coast Guard, and the San Diego Port District.
Water Operation crews will install temporary water pipes (high-lines) to provide service during water main replacements, and customers will be notified before any expected construction-related water service interruptions.
Benefits
The Harbor Drive Pipelines Replacement Project will:
improve water service
meet EPA requirements to protect water quality
reduce the likelihood of future water main breaks
reduce future maintenance needs
Project Budget and Schedule
For an up-to-date project budget and construction schedule, click here.
Contact Us
For questions or concerns about the project, call the Public Works Department construction project information line at (619) 533-4207, email [email protected], or submit your inquiry online. Please reference the "Harbor Drive Pipelines Replacement Project" in your inquiry.