Council President Pro Tem Barbara Bry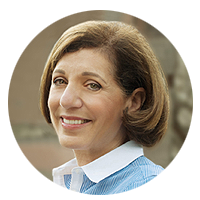 Council President Pro Tem Barbara Bry represents San Diego's First City Council District and serves as chair of the Committee on Budget and Government Efficiency. Bry also serves as vice chair of the Public Safety and Livable Neighborhoods Committee, and is a member of both the Committee on Rules and the Committee on Economic Development and Intergovernmental Relations. She was sworn into office on December 12, 2016.
The Council President Pro Tem has prioritized neighborhood improvements throughout her district. In Carmel Valley, Torrey Hills, Del Mar Mesa, and Del Mar Heights, Bry's office worked to reset dangerous traffic signals, reopen the Carmel Valley Rec Center pool after repairs, paint out graffiti, repair potholes, remove traffic view-blocking vegetation, and secure signage to improve pedestrian safety. In University City and La Jolla, Bry's office convened a commuter roundtable to address the transportation needs of the largest employment hub in region (UTC/Torrey Pines Mesa), installed pylons to prevent illegal turns, and completed dozens of right-of-way repairs.
Bry has also led and supported several citywide initiatives. As vice chair of Public Safety, she advocated for securing an independent search firm for the selection of a new police chief and pushed for a significant pay increase for the SDPD to help recruit and retain officers. She also helped to defeat an unnecessary special election, which saved taxpayers $5 million. To improve transparency, Bry led an effort to revise Charter Section 225 and move forward with an ordinance that will require the City to collect and disclose the identities of any individual or entity involved in a business transaction with the City.
Under Bry's leadership as chair of the Budget Committee, the City adopted a fiscally responsible FY 2018 Budget that sustains essential neighborhood services, enhances public safety, restores funding for the arts, designates funding for the implementation of the Climate Action Plan, and supports other important City services.
Council President Pro Tem Bry's top priorities for 2018 include police recruitment and retention, regulating short-term rentals, advancing a community choice energy program, addressing workplace sexual harassment and pay equity, moving forward with the fire station at UCSD, and creating a thriving and inclusive innovation economy.
Barbara Bry is a high-tech entrepreneur and community leader who worked her way through college and graduate school, earning a Master's Degree in Business from Harvard. Barbara was on the founding team of several local high-tech companies, including ProFlowers.com, which has created hundreds of local jobs. She is co-founder of Atcom/Info, one of the first companies to develop technology for Internet kiosks and high-speed Internet access in hotel rooms. Additionally, she served as the first associate director of CONNECT, and is the founder of Athena San Diego, the leading organization for women in the San Diego tech and life sciences community.
Barbara has deep roots in the community and has lived in San Diego for more than 35 years. She is married to Neil Senturia, raised her two daughters here, and is a proud grandmother.