Randy Reyes, M.A.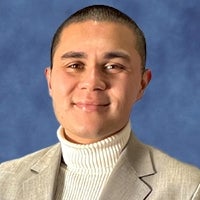 Randy Reyes serves as Community Representative and Social Media Manager for Councilmember Jennifer Campbell, where he oversees community engagement and constituent services for the Point Loma and Midway communities. In addition to his communities and social media, Randy also advises the Councilmember on environmental policy issues.
Randy graduated in May 2022 with a Bachelor of Arts in International Relations with a concentration in international security from the University of San Diego (USD). Additionally, he was a part of the BA/MA dual degree program at USD and graduated with his Master of Arts in International Relations with a regional focus in Latin America in May 2023. Randy is very passionate about international security, immigration policy, public diplomacy, and strategic communications and hopes to one day hold a job in the U.S. foreign relations field where he can combine his interests.  
Randy was born and raised in San Diego County and is the son of two Mexican immigrants who migrated from Michoacán, Mexico. As a first-generation child of migrants, he is proud to start his career in public service here in San Diego City Council and hopes to represent the Mexican-American community in the policy-making space.
Contact: rareyes@sandiego.gov or 619-236-6622