Allied Gardens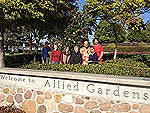 Allied Gardens is a residential neighborhood in the eastern Navajo community of San Diego, California. It neighbors San Carlos to the east, Del Cerro to the north, the College Area to the southeast and Grantville to the southwest.
Allied Gardens was developed by Louis L. Kelton and Walter Bollenbacher in 1955. They purchased the 1,000 acres (4 km2) from the Waring estate. Their original business name was the Allied Contractors, hence the name.
The Allied Gardens Recreation Center and Allied Gardens Pool are located on Greenbrier Avenue, next to Lewis Middle School. Further down the hill, just off Greenbrier on Estrella, are the community Little League fields. The area has a small business district located on Waring road between Orcutt and Zion, where it borders the community of Grantville. The abundance of parks and schools in the community has resulted in a very family-friendly reputation.
Allied Gardens is served by the San Diego Unified School District. The neighborhood contains Foster Elementary School, Marvin Elementary School, and Lewis Middle School as well as Xara Garden School (a public charter school for children in kindergarten through second grade). Older students from the area attend Patrick Henry High School, located between San Carlos and Del Cerro on Wandermere Ave.
Council Representative

Liz Saidkhanian
(619) 236-6677
[email protected]
Community Meetings