San Carlos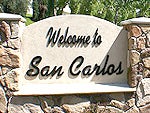 San Carlos is a neighborhood in the eastern area of San Diego, California. It borders the neighborhoods of Del Cerro, Tierrasanta, and Allied Gardens, the city of La Mesa, and Mission Trails Regional Park. The "jewel" of San Carlos is Cowles Mountain.
San Carlos is geographically defined largely by its proximity to Mission Trails Regional Park, and to the manmade reservoir Lake Murray (California). The area consists primarily of single-family homes.
The neighborhood is served by the San Diego Unified School District. It contains Daillard Elementary School, Gage Elementary School, Green Elementary School, Benchley/Weinberger Elementary School, Lewis Middle School, Pershing Middle School, and Patrick Henry High School, which serves all three neighboring communities of San Carlos, Allied Gardens, and Del Cerro.
Council Representative

Roarke Shanley
619-236-6677
[email protected]
Community Meetings
San Carlos Area Council Meets on the 1st Wednesday of every month from 6:30 PM to 8:00 PM at the San Carlos Branch Library, 7265 Jackson Drive.