Operation Shelter to Home
Protecting San Diego's Homeless Population at the San Diego Convention Center
Skip to...
---
Operational Update (As of March 5, 2021)
On March 5, 2021, Mayor Todd Gloria announced that residents of the operation at the San Diego Convention Center would be safely relocated to the City's reconfigured shelters, where they will continue to receive shelter and services. 
The following is a summary of the transition:
Where will people go? 
No one sheltering at the Convention Center will be forced to return to street homelessness. All residents have been notified of the upcoming transition. Over the coming weeks, staff will work with guests to determine the best option to continue serving them at one of the other shelter sites. Housing navigation staff will continue to support individuals and continue matching them to units and resources like vouchers and subsidies.  
When will people begin moving from the Convention Center?  
Moves to the other City shelters are slated to begin the week of March 22. The moves will occur in phases to allow for proper physical distancing in the process. All individuals are expected to be in their new shelter locations by the end of March.
What has been done to ensure the safety of individuals at the City's shelters?  
The City worked closely with the County, Housing Commission and service providers to reconfigure the City's homeless shelters to continue to serve the maximum possible number of people per night while also adhering to public health guidelines for COVID-19 prevention and mitigation. Daily temperature checks and health screenings, along with mask-wearing, handwashing and santization and other preventative measures will be required for all shelter clients and staff.
---
Overview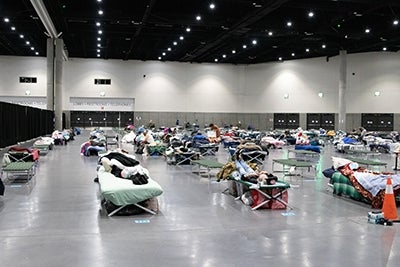 Operation Shelter to Home launched on April 1 by moving individuals already in shelters into the San Diego Convention Center to allow for proper physical distancing and prevent the spread of COVID-19. Because the effects of the pandemic were creating staffing challenges at the City's various shelters, the program centralized staff in one place to ensure personnel could be efficient even with limited numbers. On April 10, outreach staff began to bring in unsheltered individuals living on San Diego streets into the convention center to provide a safe and sanitary environment amid the pandemic.
By The Numbers (Updated March 19, 2021)
Total Client Count

556
COVID-19 Testing
NOTE: All results are inclusive of shelter clients and staff or volunteers
 

Total Administered

Shelter Clients
Staff or Volunteers

14,699

10,609

4,090

Negative Test Results

14,330

Positive Test Results

Shelter Clients
Staff or Volunteers

256

216

40

Indeterminant*

27

Incomplete**

68

Inconclusive*

18

Pending

0
*Inconclusive/Indeterminant is a test that is unable to be determined as positive or negative due to lack of sample or the viral load was below the threshold. The two terms can be used interchangeably depending on the lab completing the analysis. 
**Incomplete is a test where identification of testee is missing or illegible.
---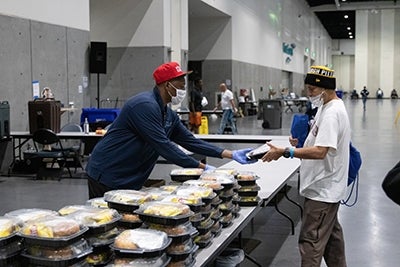 Services
Operation Shelter to Home offers services similar to other shelters, including 24-hour security, meals, showers, bathrooms, laundry services, case managers and housing navigation. The County of San Diego provides mental and behavioral health services, healthcare and daily health screenings. The Convention Center has installed large projectors and Wi-Fi access for clients to have entertainment and full connectivity for work, school or other needs. 
---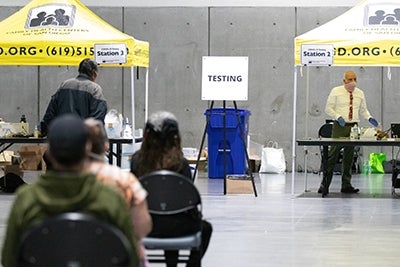 Health & Safety Precautions
Testing began on April 16 as a preemptive move to identify asymptomatic residents, staff or volunteers who may be infected with the coronavirus but show little to no symptoms. The decision to test residents is another preventive step the City of San Diego, County of San Diego, San Diego Housing Commission, and Regional Task Force on the Homeless are taking to provide a safe environment for this highly vulnerable population.
Ongoing preventive measures being taken at the shelter include:
Screening clients and staff daily at the convention center by temperature check and verbal questionnaire
Washing and sanitization of hands upon each re-entry into the facility
Wearing a face covering when moving about or leaving the convention center
Prevention and safety announcements every two hours from 8 a.m. – 5 p.m. over the PA system
Cleaning and sanitizing surfaces and the facility frequently
Evaluating and isolating individuals exhibiting any symptoms of illness and transferring off-site if necessary
Reinforce compliance among shelter residents and staff of wearing face coverings, practicing physical distancing and other safety precautions in the shelter using roaming staff
Positive Test Result
If a guest tests positive, they will be directed to an isolation area within the medical unit. A public health staff member will arrange transportation to one of the public health hotel rooms managed by San Diego County. While there, daily wellness checks and meals will be provided for the length of stay. They will remain at the off-site location until it is deemed safe for them to return to the shelter or be released to a permanent housing solution based on CDC guidelines. 
Negative Test Result
Everyone being tested will be advised of the public health guidance that a negative test is only a snapshot in time and steps must continue to be taken to avoid contracting COVID-19. All residents and staff continue to be monitored and screened daily for symptoms as well as instructed to follow all health and hygiene practices.
---
How can I get help or help someone in need? 
If it is an emergency, please call 9-1-1 immediately. For non-emergencies, you can call 2-1-1 or visit 211sandiego.org. 
The San Diego Convention Center may not be the appropriate option for all individuals. Coordinated outreach teams are engaging with people on the streets to offer them shelter best fit for their condition, whether it be at the convention center, a motel room or another option. 
This type of intake is similar to the approach used when City bridge shelters were first opened in 2017. It follows proven practices local agencies use to engage unsheltered homeless individuals. 
NOTE: At this time, the convention center is not doing intake on-site.
Connect someone to City of San Diego Homeless Outreach Teams
619-446-1010 HOT@pd.sandiego.gov
Outside of the City of San Diego
To connect individuals located outside of the City of San Diego, it is recommended to engage with the homeless outreach workers or service providers operating where the client currently resides. There may already be resources and options available to serve clients where they are instead of uprooting them from their known service system. You can also call 2-1-1 for additional assistance. 
---
Housing the Homeless
One of the core missions of Operation Shelter to Home is to find permanent housing for individuals. Case managers and housing navigators are focused on identifying the most appropriate exit strategy for shelter clients and working to end their cycle of homelessness, with the goal of ultimately reducing the number of individuals experiencing homelessness in San Diego.
Landlord Engagement and Assistance Program (LEAP)
Help San Diego's homeless through the San Diego Housing Commission's Landlord Engagement and Assistance Program (LEAP).
With rental homes that already exist in the market, landlords provide the best opportunity to quickly move individuals and families out of shelters and into a home of their own. Help San Diego's homeless by joining the San Diego Housing Commission's Landlord Engagement and Assistance Program (LEAP). The program provides landlords financial incentives while they may be experiencing economic challenges of their own due to COVID-19. 
---
Lead Agencies