Define Project Overview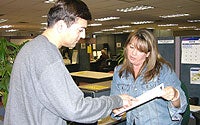 Whether you are a City of San Diego homeowner replacing a water heater, a small business owner starting a new restaurant or a contractor building a high rise office building, your project will need to obtain a permit. The process for obtaining a permit will depend on the scope of your project. This step will help you determine the route you will need to take through the development process for your permit.
The Significance of Your Project Location
The permits or approvals required will vary depending on where your project is located. For example, projects located within the Coastal Zone may require a special permit. Before Development Services can accept any plans or documents, an assessment of the site will need to be completed. Continue to the next step, for more information regarding Site Information.