Overview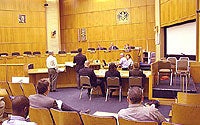 This process is called discretionary because a special permit or approval may be needed and would be granted at the discretion of a decision maker.
This special permit or approval may be needed for a number of reasons. For example, the project as proposed may be deviating from Land Development Code regulations (e.g., it may not meet setback requirements or may exceed density limits). The project may potentially impact environmentally sensitive lands or, the project may involve the subdivision of property.
Discretionary Review is a higher level review of the proposed property use and architectural and design plans. The decision maker must be able to make certain findings and may exercise discretion in granting approval of your project. See more information about the various types of discretionary permits. At the beginning of the discretionary review process, the City will assign you a single point of contact called a Development Project Manager (DPM).
If you think the desired proposal would require discretionary approval(s), you may want to consider submitting the project for a Preliminary Review. This service will tell you if any discretionary approvals are needed and give you an opportunity to dialog with review staff about your project proposal.
The decision process to approve the discretionary action usually takes place at a noticed public hearing. Some less complicated discretionary decisions are made by City staff. Many, however, are made by either a Hearing Officer, the City of San Diego Planning Commission or the San Diego City Council. These decisions require a publicly noticed hearing. (Staff discretionary approvals are appealable to the Planning Commission.) Learn more about the approval.