Overview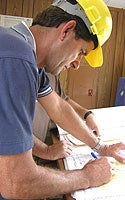 Development Services Department's Inspection Services Office located in Kearny Mesa offers a full range of inspection services for our residential and commercial customers. Those services include:
Inspections

For a Detached Single Family House or Duplex, and for Commercial or Multifamily (Condos or Apartments) construction
Landscape Inspection
Required when landscape and irrigation construction documents have been reviewed and approved.

For an overview of the inspection process, see Information Bulletin 120, "How to Obtain Project Inspections."
In Office Inspector Consultations
Field inspectors are available for consultation in person at this office between 7:45 a.m. and 8:15 a.m. or by appointment. To contact a specific inspector, see our online directory , Division of Building & Safety, Inspection Services Section.
Field Engineering
Other Services Offered
Our Kearney Mesa Inspection Services Office issues miscellaneous no-plan permits for electrical, plumbing, and mechanical work and re-roof permits for structures that are not in designated historical areas. Also, this is the only office that issues permits for mobile home setups and construction of mobile home accessory structures. See Permits & Approvals for issuance on other types of permits.
Certificates of Occupancy
After the inspections are completed, this office issues Certificates of Occupancy. Please read

Information Bulletin 585  for information.