Overview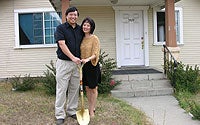 When construction work is complete, Development Services issues Certificates of Occupancy, which must be obtained before a building is occupied.
In general we have two sets of regulations, the first is the Land Development Code which identifies Zones and regulates development within those zones. The second is the California Building Code which is concerned with health and safety issues, such as compliance with disabled access, structural, fire, electrical, plumbing, and mechanical code related requirements.
Occupancy regulations are concerned with the building's use as it relates to the kind and degree of hazard housed in the building. For example, you would expect a gasoline refinery to be more hazardous than a nursery potting shed. (See the California Building Code, which addresses health and safety issues.)
Occupancy Designations
When a building houses more than one use, it results in more than one occupancy group being designated for the building. An example is an office building with underground parking. Each occupancy must be considered separately because of the different kinds and degrees of hazards. The types of designations include:
Assembly
Business
Educational
Factory
Hazardous
Institutional
Mercantile
Residential
Storage
Utility
Please note: Development Services does not issue certificates of occupancy on Single Family or Duplex Houses, Private Garages, Sheds or Agricultural Buildings. Certificates of occupancy are NOT issued for tenant improvements of existing structures when there is no change in the occupancy. Additional square footage to an existing structure or increase in occupant load may require issuance of a certificate of occupancy. This only applies to buildings with commercial and multi-family uses.
More about Certificates of Occupancy
Congratulations! You've reached the end of the Development Roadmap Step-by-Step Guide. Please let us know how we can further serve your project development needs! Call us at (619) 446-5300 or email us at [email protected]