Overview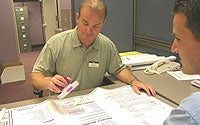 This is the last step in obtaining a permit for building/construction, grading, and work in the public right-of-way, or an approval for your map, right-of-way dedication, and grant of easement. For your permit or approval to be issued, all discipline reviews and requirements from the previous steps must be satisfied. To expedite the permit issuance and map approval process, the information in this step will help you better understand the documents you need to submit and the procedures you will need to follow:
Permits for Building/Construction
See what is involved with grading and right-of-way permit issuance and the documents required.
Map Approvals
Understand what is involved in completing a mapping action and the documents required, including City Council approval for Final Maps and recordation.
Authorization to Construct in Easements
As a property owner it is your responsibility to investigate and report all easements recorded against the property and to obtain authorization from the effected agencies and private parties. Authorization is required for example from utility agencies including the Water Department and the Metropolitan Wastewater Department of the City of San Diego.
Once your permit is issued and the necessary approvals obtained, you may start the construction or subdivision process and proceed with an Inspection.