Overview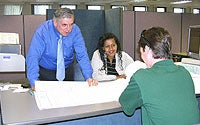 While discretionary approvals go through plan review as discussed under the Discretionary Review section, the majority of plan reviews, for construction and mapping, are processed through ministerial plan review. This means that, following staff review of the project against City standards and existing property entitlements, plans may be approved by staff without a public hearing.
Separate approval is required from each utility agency or private party for construction of improvements in easements including the City of San Diego's Public Utilities Department. Other separate approvals may be required from Cal OSHA, and other agencies.
By this step, your designers have prepared construction and/or mapping documents required to construct your development or subdivide your land. These documents must be submitted to and reviewed by City staff to benchmark the project against applicable codes and regulations. The types of approvals will determine the submittal requirements and the disciplines involved with your review. You may also want to review the new Land Development Code regulations to determine if they apply to your project submission.
Once submitted, your project will be distributed to the staff of various expertise/disciplines. As each reviewer completes the review, they will either "sign-off" on the approval or return marked-up plans (redlines) to the customer with an Issues report. (Note: Commercial building improvements made by tenants, called Tenant Improvements, are specific types of projects that may undergo a variety of reviews. Tenant improvements, which require little or no structural modification, may be processed Over-the-Counter.
If at any point in the review process you disagree with a code interpretation, just want some confirmation or to voice a concern, just ask for a second opinion. We guarantee a second opinion on request… no questions asked.
After all reviewing disciplines have "signed-off" on your project, you may proceed to the next step in the issuance of Permits & Approvals.