About Historical Resources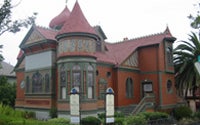 "No city can hope to understand its present or to forecast its future if it fails to recognize its past. For by tracing the past, a city can gain a clear sense of the process by which it achieved its present form and substance; and, even more importantly, how it is likely to continue to evolve. For these reasons, efforts directed to identifying and preserving San Diego's historic and archaeological resources - with their inherent ability to evoke the past – are most advisably pursued." – The City of San Diego's adopted General Plan
Since 1970, the City  has had an active and growing preservation program for both historical and archaeological resources. From 2000 to 2003, 260 individual sites and six historical districts, containing 318 contributing sites, have been designated by the City's Historical Resources Board.
The City recognizes the benefits of historical resource preservation to the community as well as to individual property owners. Preservation efforts stabilize neighborhoods and promote cultural tourism.
City staff is active with other governmental agencies as well as with citizens seeking to preserve the historical structures and character of their neighborhoods.
The Historical Resources Board and its staff work with the San Diego Housing Commission, Civic San Diego, Parks and Recreation Department and with the San Diego County Regional Airport Authority among other entities to evaluate and preserve resources.
The City has been awarded the status of a "Certified Local Government" by the state of California, enabling the City's staff and Historical Resources Board to evaluate the historical value of resources and the potential impact of development on those resources, including proposals affecting National Register designated sites.
The Historical Resources page provides information to the general public regarding specific processes associated with historical preservation within the City.