Visual Examples of Seismic Retrofit Construction
Earthquake Caused Damage to Unreinforced Masonry Buildings
Earthquake damaged unreinforced masonry buildings causing parapets to collapse onto the sidewalk. To minimize potential damage in an event of earthquake, parapets around building perimeter should be braced and roof-to-walls should be tied together.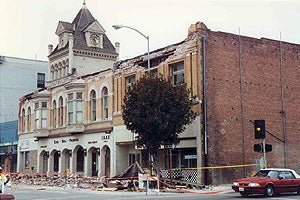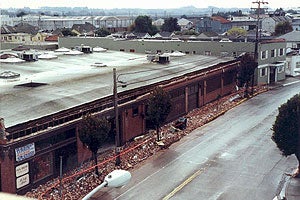 Roof-to-wall ties connect roof framing members to unreinforced masonry wall. These are examples of through bolts with exterior steel plates used as roof-to-wall ties.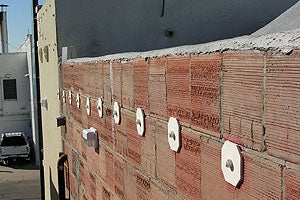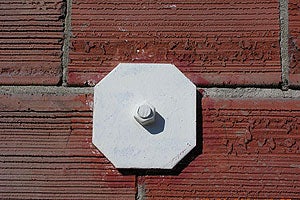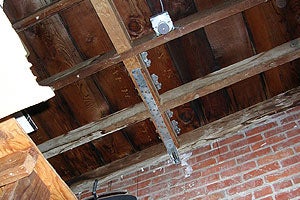 Non-structural objects such as these decorative precast concrete elements which may fall during an earthquake must be removed or properly stabilized.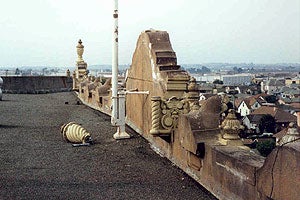 An example of URM roof parapet braces for URM buildings. Steel diagonal braces secure roof parapets constructed of unreinforced masonry block, brick or hollow-clay tile that are aesthetically desirable, but at risk of breaking off and falling during an earthquake.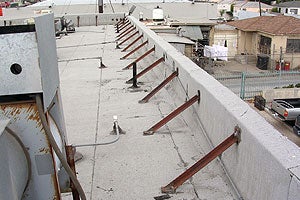 An example of roof parapet bracing and roof-to-wall anchor for URM buildings. Roof-to-wall anchors tie the roof diaphragm and the URM walls together minimizing risk of potential separation of the URM walls and roof during an earthquake.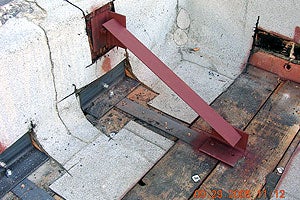 All photos courtesy of Mehdi Shadyab.