The Keating Building
By: Mehdi Shadyab, P.E., J.D.
The Keating Building: This historic building is located at 432 F Street, in the heart of the Gaslamp Quarter, at the corner of 5th Avenue and `F' Street, Downtown San Diego. This building is listed as a historic building number [31] on the Gaslamp Quarter Historic Buildings registry.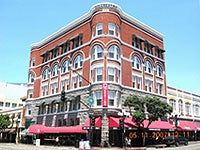 George J. Keating and his wife Fannie Keating lived in Kansas where Mr. Keating had one of the world's largest companies dealing in farm equipment, called Smith and Keating.
Mr. and Mrs. Keating moved to San Diego in 1886. George J. Keating died in 1888. In 1890, Fannie Keating began construction of the Keating building as a tribute to her late husband, at a cost of $135,000. She employed the Reid Brothers as the architects to design this building, who are also best known as the architects of the famous Hotel Del Coronado.
The construction of this five story, Romanesque Revival style, office building was completed in 1891. At that time, this building was known to be as one of the most prestigious office buildings in San Diego. This building had all the modern conveniences of steam heat, a wire cage elevator, and spacious office spaces. The original Wire cage elevator was later removed. Some of the well known tenants of this building include Lawyers, Babcock, Paterbaugh and Luce; Henry Lord Gay, founder of the American Institute of Architects; T.J. Sloan, a well known photographer; and City Library. The San Diego Savings Bank (later became San Diego Trust and Savings Bank) also occupied this building around the turn of the century, from 1893 - 1912. In fact, the old steel bank vault is still in the basement of the building.
Today, The Keating Building is used as a mixed-occupancy; restaurant / bar on the first floor and in the lower basement and, a hotel on second thru fifth floors. In 2006, this unreinforced masonry (URM) building underwent structural renovation and was retrofitted to comply with the mandatory provisions of the regulations of the City of San Diego URM Ordinance.
Note from the Author: The featured unreinforced masonry (URM) historic building is presented here in an effort to emphasize the importance of structural retrofitting and strengthening of such buildings per the applicable seismic regulations of the City of San Diego, for the safety, use and enjoyment of all our citizens as well as for the preservation of our historic buildings.