Old City Hall
By: Mehdi Shadyab, P.E., J.D.
Old City Hall is a historic building located at 664 Fifth Avenue in the heart of the Gaslamp Quarter, at the corner of 'G' Street and 5th Avenue, Downtown San Diego. This building is listed as a historic building number [46] on the Gaslamp Quarter Historic Buildings registry.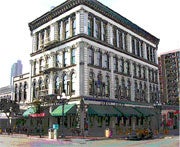 This Florentine-Italianate architectural style building was originally a two-story brick building constructed in 1874. Thirteen years later, in 1887, two more stories were added. Upon the completion of the upper levels, the Public Library moved-in and occupied the third floor. In 1891, the City of San Diego purchased the building from Ralph Granger and the City of San Diego Government offices were moved into the building.
The Police Department occupied the first floor and the Council Chambers occupied the fourth floor. The first San Diego Mayor having an office in this building was Edwin Capp. Mayor Capp was involved in a scandal over profit-making on the purchase of a smallpox vaccine which was intended for public use. Mayor Louise Wilde began his services in this building in 1917. Mayor Wilde is best known for donating the Horton Plaza fountain to the City in 1910. Mayor Wilde's own home and the U.S. Grant Hotel that he also owned were located on `D' Street, which he renamed to Broadway. The City Hall housed the City of San Diego Government offices for 35 years.
Today, The Old City Hall is owned privately and is used as a mixed-occupancy; restaurant/bar on the first floor, retail on second floor, and live/work loft units on the third and fourth floors. In 1995, this unreinforced masonry (URM) building underwent major structural renovation and was completely retrofitted according to the seismic regulations of the then applicable building code and the City of San Diego URM Ordinance.