Western Metal Supply Co. Building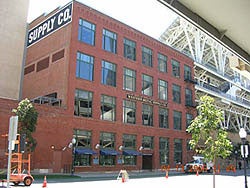 By: Mehdi Shadyab, P.E., J.D.
Western Metal Supply Co. Building This four-story brick building, located at 215 7TH Avenue, was built in 1909-1910 at the corner of Seventh Avenue and K Street, at then-considerable cost of $60,000. It was originally designed by renowned architect Henry Lord Gay. This building is registered as a historical building, No. HRB 131, on the San Diego Historical Resources Board registry.
The business that became Western Metal Supply Company in 1902 was established in 1888 by brothers Bernard and George McKenzie. It originally specialized in steel distribution, wagon makers' materials, and blacksmith's supplies, and later evolved into a large hardware wholesale operation, adding plumbing, auto supplies, pipe fittings, equipment for automobiles and gasoline engines, roofing supplies and sporting goods to its inventory. The company played a key role in developing the region from Southern California to Arizona by supplying products for the construction and transportation industries - from covered wagons to the railroad and automobiles.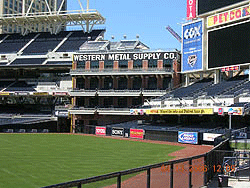 By 1972, the once thriving old industrial neighborhood and warehouse district had declined into disrepair. The McKenzie family sold the business in 1972. The Western Metal Supply Company filed for bankruptcy in 1975. In 1977, the vacant building was purchased by the Hom family, and eventually designated as a historic site by the City of San Diego. Years later, the Western Metal Supply Co. Building was scheduled for demolition to make way for construction of a new ball park in downtown San Diego, the PETCO Park.
Today, skyscraper hotels and condominiums, office buildings, parking structures, shops and restaurants have replaced the old industrial warehouse district. This new redeveloped and revitalized district known as East Village is the location of The PETCO Park, which is home to Padres, the San Diego's baseball team. With Padres commitment to preservation of historic resources, this one hundred-year old historical brick building was preserved and adaptively re-used. The Western Metal Supply Co. Building is an integral part of the PETCO Park. The building is incorporated into the ballpark, with the left-field foul pole attached to its southeastern corner. It houses The Majestic Padres Team Store; a souvenir shop; on the ground level, party suites on the second and third floors, a public restaurant on the fourth floor, and seating areas and bleachers on the rooftop.
As part of the construction of the ball park, this historical building underwent major structural renovation and was completely seismically strengthened as required by the seismic regulations of the applicable building code and the City of San Diego Unreinforced Masonry (URM) Ordinance.