Energy Awards
---
On May 16, 2018 Current, a subsidiary of General Electric announced the winners of the 2018 GE Edison Awards
at LIGHTFAIR in Chicago. The awards, which were first given in 1983, were updated this year to celebrate the commercial lighting industry's evolution toward connected lighting and intelligent environments. In recognition for the deployment of the largest city-based
deployment of an IoT platform in the world
, the City of San Diego was awarded the Innovative Exterior Lighting Solutions Award.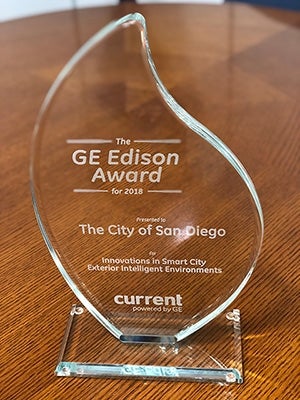 ---
At it's annual awards ceremony on May 24, 2018, the San Diego/Imperial County chapter of the American Public Works Association (APWA) awarded the City of San Diego its Honor Award for the Solar Photovoltaic (PV) Installation project at the City's Carmel Valley Recreation Center. Installation of solar PV panels at City facilities started in August 2017 with the Carmel Valley Recreation Center rooftop & parking lot as one of the first to break ground. The 259 kW system provides clean energy to power the recreation center, saving the City thousands of dollars over the next 20 years.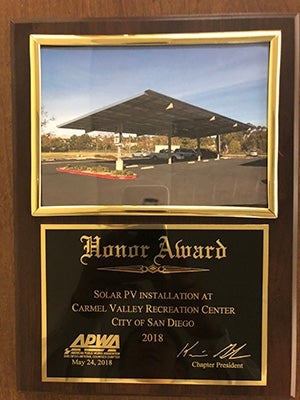 ---
Additional Awards and Recognition
City Receives $1.9M Grant to Improve Tracking of Sustainability Efforts
On June 2, 2017 the City of San Diego's Environmental Services Department has been awarded a $1.9 million grant from the California Energy Commission to pilot an advanced Smart City Open Urban Platform (SCOUP) network. This web-based platform will benchmark and track greenhouse gas emissions and energy use associated with select municipal facilities, allowing the City of San Diego and the public to measure the City's progress toward its ambitious Climate Action Plan (CAP) goals and overall sustainability-related efforts.

More...
---
San Diego Ranks Eighth Nationally in Clean Power Production
On May 17, 2017 the U.S. Environmental Protection Agency (EPA) has ranked the City of San Diego as the eighth largest green power user in the country in its annual list recognizing agencies for generating power from alternative energy sources, including solar, landfill gas, hydro-electric and wastewater methane energy systems.

More...
---
San Diego Ranks 13th in Nation on National Energy Efficiency Scorecard
On May 10, 2017 a new national report ranked San Diego as one of the most improved energy efficient cities in the country. The American Council for an Energy-Efficient Economy (ACEEE) today released the 2017 City Energy Efficiency Scorecard. San Diego moved into 13th place overall by earning 59 points and was recognized as the second most-improved city from the ACEEE's 2015 Scorecard.

More...
---
City of San Diego Recognized at San Diego Gas & Electric 10th Annual Energy Showcase Event


More...along with the Balboa Park Cultural Partnership and eight other municipal, school district, and business customers for their remarkable results in energy efficiency and conservation. More...