Citywide Broad Spectrum Street Lighting Retrofits
Background
The project will provide upgraded street lights with better illumination with no additional cost to City taxpayers. Funding is provided by a federal stimulus grant, and a low interest bond and loan. The energy savings exceed the financing debt service, thereby "paying" for the upgrade.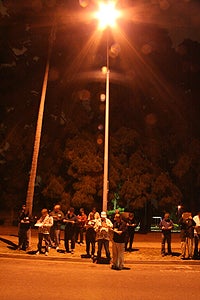 BEFORE: Current high-pressure sodium vapor lamps cast yellow glow.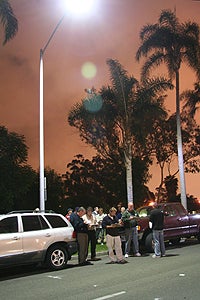 AFTER: New induction lamps provide better color rendering.
Project Overview
The $16 million citywide project will convert more than 36,000 existing

sodium vapor street lights to broad-spectrum induction lighting. The city currently has 50,000 street lights.
Broad-spectrum lighting is a whiter light and more like sunlight. The current street lights cast a yellow glow.
Estimated annual savings of $2.2 million.
16 million annual kilowatt-hours in energy savings, equal to the amount of energy used by 2,540 homes.
Eligible for $1.2 million in rebates from SDGE®
The project will be operated within the public roadway and not on private property. The contractor, Southern Contracting Co., is responsible for traffic and control to protect public safety within the project areas and is responsible to keep the area as clean as possible from dirt and dust.
Construction Schedule
Southern Contracting Co. began retrofitting street lights mid-September 2011 and finish early 2013. Approximately 2,600 lighting fixtures will be replaced each month.
Contact
To submit a Service Request regarding street light brightness issues, a nonworking light, or other street-related problems, contact the City's Street Division.
For more information on streetlighting upgrades, please contact the Environmental Services Department's customer service by phone at 858-694-7000 or by email at [email protected].
Links
Documents