Renewable Energy: Photovoltaics
Clean Energy Solar Panels Save Taxpayer Dollars
Sixteen municipal facilities fitted with photovoltaics will help the City reach its goal to pursue energy independence, and become a model city in energy conservation with the use of renewable energy.
City Policy Encourages Renewable Technologies, such as Solar!
All newly constructed facilities and major renovation projects regardless of square footage are encouraged to incorporate self-generation using renewable technologies to reduce environmental impacts associated with fossil fuel energy use. Newly constructed City facilities shall generate a minimum of 10%, with a goal of 20% from renewable technologies including photovoltaic, wind and fuel cells.

See the 2003 Sustainable Building Policy 900-14 for more information.
City facilities Produce 2.3 Megawatts of Electricity Annually
Solar technology, which converts sunlight into electricity, is environmentally friendly because it requires no fuel and produces no emissions. Photovoltaics have the potential to play a major role in climate change mitigation and pollution reduction.
City taxpayers will save about $1 million each year in energy costs with the City's two large solar systems; one at Otay and the other at the Alvarado water treatment plant.
City Facilities to Receive Photovoltaics:
Bayview Reservior
Miramar Water Treatment Plant
Metropolitan Operations Complex (MOC)
How Grid-connected PV Systems Work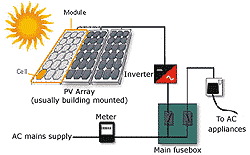 Grid-connected photovoltaic systems are the most common type as they make use of the existing electricity grid. The electricity produced during the daytime is either used, or sent back into the electricity grid and used by others, an arrangement called 'net metering.' At night, or on dark days when the panels do not produce sufficient power, electricity is bought in from the electrical grid.
Graphic courtesy San Diego Regional Energy Office
Power Purchase Agreements
The Otay and Alvarado water treatment plant's solar systems were built with power purchase agreements with SunEdison. Under the agreements, the company installed the arrays at no cost to the City. SunEdison owns and maintains the systems and will sell non polluting, solar-generated electricity to the City's Public Utilities section.