Smart City
San Diego Deploys the World's Largest Smart City Platform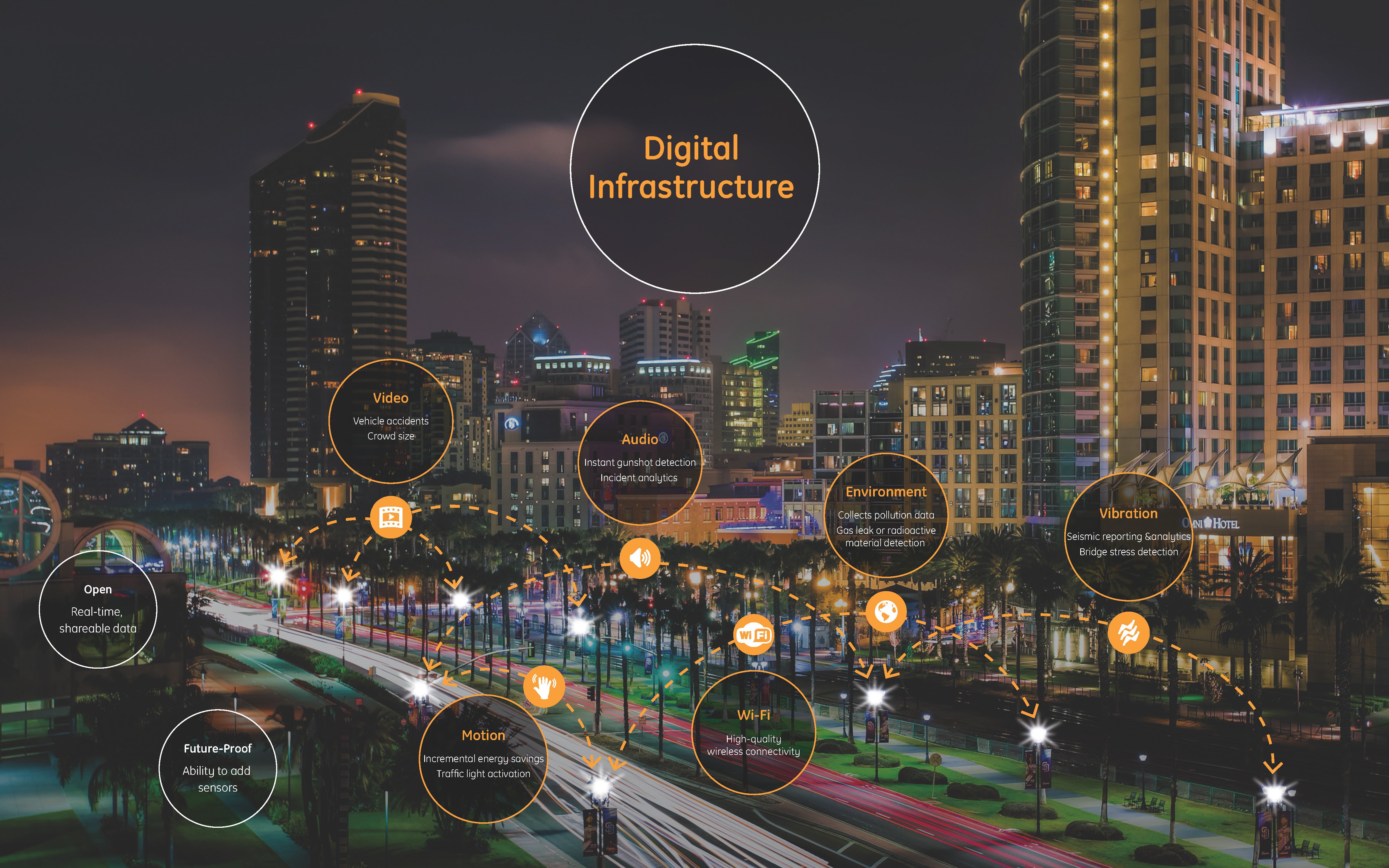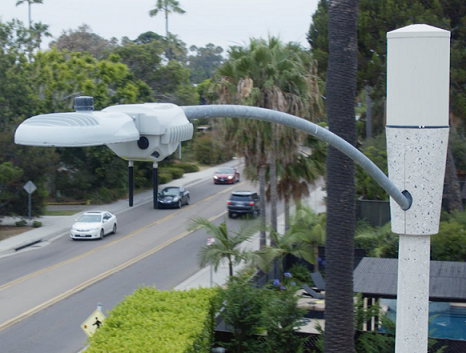 Intelligent Outdoor Lighting Program Award Supplement
In support of its ambitious

Climate Action Plan, the City of San Diego has deployed the world's largest smart city sensor platform. The system is transforming the City's existing street lighting infrastructure into a connected digital infrastructure which will lead to significant energy savings, improved air quality and a safer San Diego.
 
The anonymous sensor data collected by the City of San Diego will be used to develop applications and systems that benefit the City and the community. From pedestrian safety and directing drivers to open parking spaces to mobility planning and optimization, to helping first responders during an emergency, to gunshot detection, and urban and real estate development planning. The open data platform gives the City limitless opportunities to increase safety, enhance business and civic engagement opportunities, optimize municipal systems and create real-time environmental awareness.
Learn more about what makes San Diego such a SMART City!
Making San Diego the World's Smartest City
Intelligent Lighting in San Diego

"Fostering innovation and improving infrastructure are important to enhancing the lives of all San Diegans. This new technology will give the City and developers the opportunity to make our neighborhoods safer and smarter."
San Diego Mayor Kevin L. Faulconer
Intelligent Sensors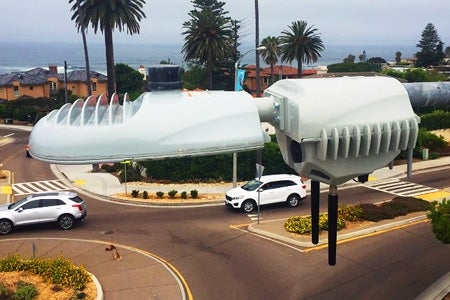 In 2018, about 3,200 intelligent sensors were installed to transform the City's streetlights into smart infrastructure that will help optimize traffic and parking, plus enhance public safety, environmental awareness and overall livability for San Diego residents.  View interactive map of all Smart Streetlight locations.
These intelligent nodes can see, hear and feel the heartbeat of a city. The node connects city officials and citizens to real-time data, allowing for endless applications. From easier parking and decreased traffic congestion, enhanced public safety and environmental monitoring, enhanced bicycle route planning, to enhanced urban and real estate development planning, this platform can improve the quality of life in our city and boost economic growth.
Energy Efficient Outdoor Lights
In addition to the intelligent sensor installation, approximately 25 percent of San Diego's outdoor lights will be upgraded to reduce energy consumption and greenhouse gas emissions. The City of San Diego has retrofitted approximately 38,000 light fixtures with energy efficient lighting of which, 3,500 are currently equipped with advance lighting control systems. In addition, the City is installing another 14,000 new Adaptive Control LED fixtures across the city in 2018, which is expected to save San Diego an estimated $2.8 million per year in energy costs that can be invested back into other uses such as maintaining our roads and parks. It also reduces night sky impact and uplighting by at least 90 percent.
Each fixture comes equipped with an advanced controls system called LightGrid which allows city managers to dim, brighten and check maintenance on the lights remotely to reduce energy waste and maintenance costs.
The projects are paid for using energy savings, rebates, federal grants, the State of California, and private, low interest financing. 
Benefits
By installing a network of energy-efficient LED lights equipped with sensor technology and advanced controls, the City will utilize more accurate data collection to develop services and policies to improve the quality of life for residents and businesses. The data collected by the intelligent outdoor network is aggregated to illustrate trends and provide insights with Machine to Machine learning and Internet of Things. No personally identifiable information is collected. The City and private developers can only use the data for purposes such as improving traffic, parking, pedestrian use, cyclist navigation and weather.
The program will lead to a safer and vibrant city because the City's new digital smart city infrastructure is a highly innovative approach that provides a multi-application, horizontal platform for solving challenges in public safety, emergencies, pedestrian safety, mobility, economic development and much more.
Cost Savings
The Intelligent Outdoor Lighting Project makes San Diego one of America's most energy-efficient cities and saves $2.8 million in annual energy costs due to the more efficient lighting.
The City will avoid or minimize future costs of installing one-off point solutions i.e. in-ground parking sensors, pedestrian detection infrared, inductive loop surveillance at intersections, CCTV video cameras, and more.
In the long term, the compounding app economy, cost avoidance for single-purpose technology deployment, real-estate development planning models, and small businesses and retail store location optimization tools have the potential to bring increased revenue and jobs to the region.
Improved Parking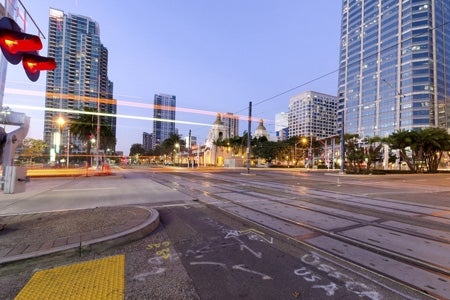 The City of San Diego's smart city digital infrastructure will make it easier for residents to find parking, higher utilization of parking spots, and streamlined parking management. Based on experiences with prior deployments of similar technology solutions, the City expects a 40 percent reduction in time spent looking for parking
Improved Traffic Flow
San Diego's smart sensors will provide valuable data to enhance traffic flow. Studies conducted by application providers indicate that there's potential to improve traffic by 10-20 percent by optimizing city management of traffic and providing en-route guidance improvements. Less traffic also means lower greenhouse gas emissions. The impact of this is significant, and reduced traffic will improve air quality and associated health and productivity benefits.
Bike Lanes
Bicycle data will help planners ensure they are building bike lanes where needed to enhance mobility throughout the city. In addition, traffic has a significant correlation to real estate prices and improved traffic should lead to higher real estate values in a number of San Diego neighborhoods.
Improved Public Safety
In the long run, San Diego's smart city sensors are expected to act as a deterrent to crime as the prevalence of optical and audio sensors has been shown to directly impact public safety. Video data from digital smart city infrastructure will make it easier to identify, and, therefore, arrest criminals. Similar technology has been applied in many other cities across the nation, with the median reduction in gunshots recorded as 20 percent across cities that saw reductions.
New App Creation
Real-time sensor data will be open to app developers with a goal of creating apps that solve specific challenges from City departments such as transportation, police, economic development, public works, and more, as well as to make lives better for San Diego residents, visitors and business owners. More than 40 such apps were created in 2017 without access to the valuable data that will be created by this program.
The Intelligent Outdoor Lighting Project is based on an open platform, meaning it collects and makes data available to private software developers who can innovate new solutions to residents and businesses challenges, not the City, which is more efficient and a better use of taxpayer dollars.
No personally identifiable information is collected so the City and private developers only have access to data such as traffic, parking, pedestrian use, cyclists and weather
Data Asset Value
While economic uses of this type of data are difficult to ascertain, some clear use cases that generate significant value are made possible by the data. For example, improved crime data will allow insurance companies to improve their risk modeling and accurate foot traffic data will improve retail real estate pricing and outdoor advertising optimization. It is expected that the value of these entirely new types of data sets will be large in volume and wide in scope.
Ordinances

Ordinance Number O-20186

Ordinance Number O-20235

Article 2: General Development Regulations

Part 7: Street Lighting and Traffic Signal Systems, Section 700 - Materials
News