Hazardous Materials Management At City Facilities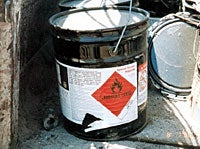 The City of San Diego's Environmental Protection Division proactively approaches the management of hazardous materials used in City-owned or operated facilities and construction projects through its Hazardous Materials Management Program. Program staff conducts training classes to ensure City staff are aware of the requirements for proper hazardous waste management, and inspect City facilities and construction sites to ensure hazardous materials used at the site are stored and disposed of properly. The picture shown here illustrates improper storage practices.
Information Contacts and Resources
For City staff and project contractors, contact Joy Newman, Supervising Hazardous Materials Inspector, via email at

[email protected]

or telephone at (858) 573-1204.
For businesses, telephone the County of San Diego, Department of Environmental Health at (858) 505-6880.