What Makes A Building Green?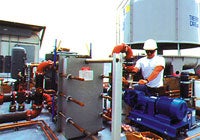 Two rooftop mechanical systems provide energy efficiency and cost savings for the buildings.
After persuading the City to purchase the $3 million building, "We came up with a set of objectives that demonstrate our original vision," says Adam Saling, the City's Ridgehaven project manager. Among these objectives:
Use of construction materials that are minimally toxic and noncarcinogenic (cancer-causing agents)
 
Use of materials that minimize growth of mildew, mold and bacteria.
 
Selection of construction materials made of substantial recycled content, to be eventually recycled themselves, or to be renewable or sustainable in the case of virgin materials.
Replacement of the heating, ventilation and air conditioning system to increase efficiency of the equipment and provide high-quality indoor air.
Reuse of existing construction materials, including doors, wall panels, and hardware.
The Ridgehaven building consumes 8-9 kilowatt-hours per square foot per year (compared to the 21 kilowatt-hours historically used), placing it in the lowest 10% of commercial energy users in San Diego County. In 2000, the energy savings were almost $200,000.
Chuck Angyal, SDG&E Chief Architect, and a member of the Ridgehaven design team says, "SDG&E has been offering energy efficiency programs for many years and we recognized the Ridgehaven project as an opportunity to demonstrate how far a project could go. Ridgehaven proves that creating high-performance buildings that consume much less energy is not only possible but is very practical."
According to Energy Efficiency Consultant David Gottfried, "What was shown was the ability to have an integrated team with environmental and economic goals to perform a green building that was both environmentally and energy efficient and also economically successful."