Ridgehaven is an International Leader in Green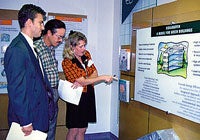 Visitors tour the environmental exhibit center
The creativity, vision and leadership of the Ridgehaven project has resulted in local as well as international media attention. Visitors from cities across the United States of America and more than 45 foreign countries have studied the Ridgehaven building to learn about the application of "green" building technology. Ridgehaven has won "numerous awards for architectural excellence and energy conservation. In 1999, the U.S. Department of Energy and the U.S. Environmental Protection Agency honored the Ridgehaven building and its designers with the first federal Energy Star Label for energy efficiency.
"The renovated facility is a model for the energy, environmental, and economic benefits of green building."
Richard L. Hays
Former Environmental Services Director
With its 140-seat auditorium, Ridgehaven serves the community as an environmental training center. Educational symposiums include City environmental training, hazardous materials handling, community recycling, and energy and water conservation. Building tours are available Monday-Friday by calling 858-694-7000, or via email.