The Ridgehaven Design Team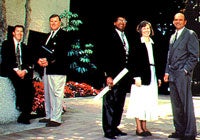 Ridgehaven design team members include, from left, Paul McParlane, Richard Hays, Pervez Mobin, Alison Whitelaw and Chuck Angyal.
Expert assistance for the project came from an integrated design team and outside consultants. "With more affordable green buildings like Ridgehaven, we can improve the built environment, conserve natural resources, and enhance our quality of life thus ensuring an environmentally sustainable future."
Lynn Froeschle
American Institute of Architects
The Design Team: Richard L. Hays, director, Robert A. Epler, assistant director and Adam Saling, fiscal administrator, Environmental Services Department, City of San Diego, the client; project architect Jacqueline Lu, AIA, and principal architect Alison Whitelaw, AIA, Platt/Whitelaw Architects, Inc., San Diego; mechanical engineer Mitch Hart and principal Paul McParlane, P.E., McParlane & Associates, San Diego; electrical engineers Pervez Mobin, P.E., and Salvador Gomez, Turpin & Rattan Engineering, Inc.; environmental consulting architect Lynn Froeschle, AIA; David Gottfried, principal, Gottfried Technology, Inc., San Francisco, and co-founder/vice chairman, U.S. Green Building Council, Washington, D.C.; Mukesh K. Khattar, manager, HVAC, refrigeration and thermal storage, and Stephen Baruch, Community Initiative Program, Electric Power Research Institute, Palo Alto, California; Clark Bisel, Flack & Kurtz Engineers, San Francisco; Steven Taylor, Taylor Engineering, San Francisco; Charles Angyal, AIA, supervisor, SDG&E Savings Through Design new construction program; and Gregg Lawless and Garrett Taylor, SDG&E account executives.