Environmental Management Program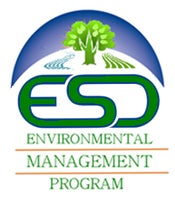 Mission Statement
The City of San Diego's Environmental Services Department (ESD) is entrusted with providing high quality solid waste disposal services for the citizens of San Diego and the greater San Diego metropolitan area. We are dedicated to carrying out this responsibility in a manner that demonstrates true leadership in environmental management while continuing to provide the highest level of service.
What is the Environmental Management Program (EMP)?
Our EMP consists of a set of management processes and procedures that allow our organization to analyze, manage, and reduce the environmental impactof its activities, products and services while allowing it to operate with greater efficiency and control.
Purpose
It is our expectation that all Waste Reduction and Disposal Division employees will embrace and support WRAD's commitment to continuous improvements of all its products and services. This includes prevention of pollution at all of its operation sites, as well as regulatory compliance of all programs for which WRAD is responsible for managing.
Most Recent West Miramar Landfill Regulatory Inspection Reports: