Miramar Liner Design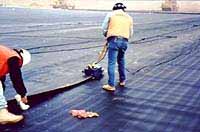 In 1991, the United States Congress passed the Resource Conservation and Recovery Act, which directly affects the way municipal landfills operate by requiring the construction of complex and expensive liner systems in all areas designed for trash burial.
This liner system serves to encapsulate the refuse within multiple layers of impervious material, including clay soil and polyethylene, a hard but flexible plastic sheeting which is heat-fused together, essentially forming a huge trash bag. A system of pipes installed on top of the liner carries any liquid generated by the Landfill (known as leachate) away from the trash and into a collection area, ensuring that it never becomes a pollutant.