Miramar Nursery: Landfill Revegetation And Volunteer Opportunities
Prior to the operation of the Miramar Landfill, the 1,400-acre area was natural open space. As part of the lease with the Marine Corps, which owns the land, the City must revegetate the land upon completion of its use.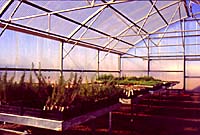 To accomplish this task, City staff at the Landfill constructed a nursery to propagate native plants. The greenhouse is able to house and grow 30,000 plants at once.
Outplanting
The Landfill's current surface is covered with soil excavated from other parts of the Landfill, where deep holes are dug to contain the City's trash. Since this soil comes from far below the surface, it lacks the nutrients needed to promote plant growth.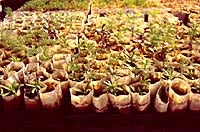 To remedy this problem, mulch is spread and incorporated into the soil. (The City is also experimenting with compost as a soil amendment.) The area is then seeded by hand or by use of a mechanical seeder. Plants raised in the native plant nursery are then planted to accelerate the pace of the revegetation process. With the help of sun and rain, the propagated plants will grow successfully to one day return the Landfill to its native state.
Volunteer Opportunities
The goal of the City staff is to revegetate 50 acres of land annually. In addition to seeding this area, approximately 28,000 plants need to be outplanted to fulfill this goal. This is where we need your help! Volunteer projects include starting new plants, transplanting, and planting native species. Volunteers may organize a group or come solo to a scheduled volunteer day. Volunteer days are regularly scheduled on Saturdays from 9 a.m. to noon, but large groups can be accommodated at your convenience. Note: Volunteers who show up at the Miramar Landfill without an appointment will be denied entrance. For more information call 858-627-3320.