Market Development for the Recycling Industry
San Diego is home to a growing recycling industry that employs hundreds of local residents. To encourage this growth, legislative policies have been adopted to give an advantage to manufacturers that use recycled products. Many of these incentives are extended through the creation of two Recycling Market Development Zones (RMDZ) within San Diego County.
RMDZs are areas where manufacturers of recycled products and other recycling companies are encouraged to locate their facilities. RMDZ designation provides access to a state low-interest loan program; permit, employee recruitment and siting assistance; and other financial and business benefits. For more information about RMDZ call Environmental Services at (858) 492-5010.
South San Diego RMDZ
Established in 1992, this RMDZ is a cooperative effort by the City and County of San Diego and the industrial community in Otay Mesa. It covers approximately 6,300 acres of land and is located in the Southern part of the City along the US/Mexico border. Businesses operating in the Otay Mesa RMDZ also benefit from being in a state designated Enterprise Zone and Foreign Trade Zone. This area also has competitive industrial land prices and convenient access by land and air to California and Mexico.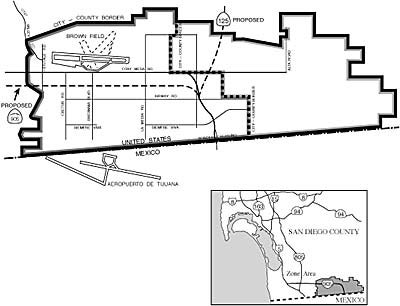 North County RMDZ
Established in 1994, this RMDZ covers much of North San Diego County, including the cities of Carlsbad, Del Mar, Escondido, Oceanside, Poway, San Diego, San Marcos, Solana Beach, Vista, and unincorporated areas in San Diego County. The result is a diversity of location opportunities, providing a variety of unique settings able to satisfy almost any business' needs.