Goodwill Drop-off Center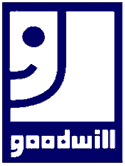 Household items and clothing get a second chance at the Miramar Recycling Center where a Goodwill donation bin is set up at the entrance to help people donate for reuse items that would otherwise end up in the trash.
The Goodwill Drop-off Center at the Miramar Recycling Center is a continuation of a pilot program that took place in Oct. 2002, when the City of San Diego, Goodwill Industries of San Diego County and Allan Company joined together in celebrating the nationally recognized

Second Chance Month.
Donations
Drop-off hours are 7 a.m. to 4:30 p.m. seven days a week.
All items must be in good condition. Goodwill is unable to repair or use items with missing pieces.
Clothing
Household goods
Jewelry
Most small items with an electrical plug
To learn about locations that recycle unaccepted donation items or how to dispose of these items, visit the City of San Diego's Environmental Services Department Household Hazardous Waste webpage.
All acceptable donations directly benefit Goodwill Industries of San Diego County (external link). These items will be resold to help provide job training and paid work experience to San Diegans with disabilities and other barriers to employment. For more information about donated items to Goodwill, call 619-225-2200 or 888-446-6394.