Recycling at the City's Parks and Recreation Centers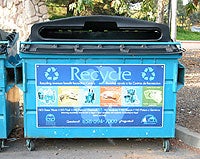 Residents can drop off their recyclables at designated recycling stations at the following Parks and Recreation Center locations. These recycling stations are provided for residents who are not able to participate in the City's curbside recycling program.
What recyclable items are accepted?
Some people say they don't recycle because the rules are too confusing. That's why the City adopted the Keep It Short and Simple (KISS) rules for recycling in the curbside recycling program and at Parks and Recreation facilities.
KISS -- Keep It Short and Simple
Give us all your paper
Your cardboard
Your bottles, jars and cans
Your clean plastic food containers, plastic buckets, tubs, pots, and toys
And don't forget shredded paper.
{C}
View Images of What Can and Can't Be Recycled