Commercial
Types of Recycling Containers for Desks and Common Areas
Containers for inside buildings are usually purchased by business owners or commercial building property managers. Haulers and recyclers can provide a variety of containers for outside.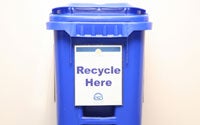 Clearly identify recycling
containers with signs
Several types of containers are suitable for small places and ideal for use in offices. Some are designed to fit small spaces such as:
A small box
on the desk
Recycling/trash containers
under the desk
Inside the
kitchen area
By the copy machine
or printer
To assist in your search for containers, view a

list of manufacturers and vendors of indoor containers . Please note that this list is not comprehensive and that the City of San Diego does not endorse the contents.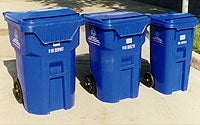 These 32- 64- or 96-gallon carts work well both inside and outside buildings. Many recyclers are able to pick up recyclables directly from these automated collection carts.

If commercial facilities have smaller enclosures on each floor, a 44 gallon corrugated plastic or cardboard container has proven to be very efficient as a recycling container. Place recycling and trash containers side by side and post signs identifying the recycling container.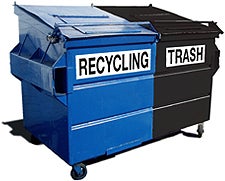 Split Dumpsters
Split dumpsters offer two separate compartments, one for recycling and one for trash. Dumpsters can be three or four cubic yards.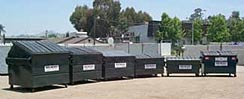 Measurements
Commercial dumpsters are typically available in 1 to 8 cubic yards (CY) capacity. There are many possible sizes and types of lids available.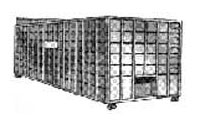 Roll-off Containers
Ideal for large volumes of waste and recyclables, this container is available in sizes from 15 to 40 cubic yards. Containers can be loaded from side doors or from the top.
Compactors and balers compress a large volume of waste or recyclables to help reduce hauling frequency and cost. Ask your hauler about models and sizes that best serve your business.
Compactors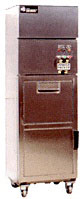 Small capacity trash compactor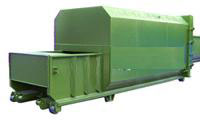 Large capacity trash compactor
Balers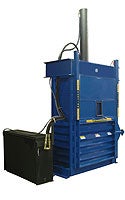 Balers save space and decrease the frequency of service. This system should only be used for large volumes of the same material, such as cardboard, and if the business has enough space to store the baled material before recycling.
Photos courtesy EDCO and WasteCare Corporation