San Diego's Pathway to 100% Renewable Energy

The City of San Diego's Climate Action Plan includes a goal to reach 100 percent renewable energy citywide by 2035 and identifies a Community Choice Aggregation (CCA) program or other programs as mechanisms to reach this goal.
State legislation regarding CCA allows local governments or groups of local governments to procure electricity on behalf of customers within its jurisdiction. Under a CCA, the utility for the City of San Diego, San Diego Gas and Electric (SDG&E), would continue to deliver, meter, and bill the electricity to all customers including those in the CCA.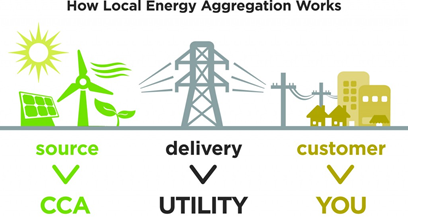 Buying and building electricity supply
Delivering energy, maintain lines, billing customers
Benefiting from competitive rates, local control, cleaner energy
Why 100% Renewable?
The goals for a jurisdiction to strive for 100 percent renewable electricity, through a CCA or another program, are reflected below.
Allows the City to choose to procure higher levels of renewable energy for their constituents than what is available in the uility's portfolio.
May be one of the most cost-effective ways to achieve the City's carbon footprint reduction targets.
Would allow the City to design programs to further promote energy efficiency, economic development, etc.
More renewable energy generation could be local, which means more local jobs.
Revenue generated would be re-invested back into the City
There are currently four active CCA programs in California: Marin Clean Energy, Sonoma Clean Power, Lancaster Choice Energy, and CleanPowerSF. Peninsula Clean Energy recently launched in October 2016. Silicon Valley Clean Energy is expected to launch its program in the near future. Many other local jurisdictions, including several in San Diego County, are also exploring the feasibility of developing CCAs.
Preliminary Work and Stakeholder Feedback
In September 2015, Protect Our Communities, a local 501(c)(3) nonprofit organization, funded and provided to the City a

Community Choice Assessment. The Protect Our Communities report was performed by Community Choice Partners Inc.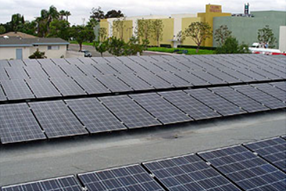 Preliminary community and stakeholder input was collected by the City's Sustainable Energy Advisory Board. Using results of the stakeholder engagement process, the Sustainable Energy Advisory Board developed and provided to the City its recommended

CCA Guiding Principles and Minimum Performance Criteria.
Current CCA Feasibility Study
In October 2016, the City kicked off a feasibility study for Community Choice Aggregation, which will be performed by Willdan Financial Services. The study will help the City to determine:
To what extent a CCA will help to achieve the City's renewable energy policy outlined in the Climate Action Plan;
How a CCA could be implemented; and
Identify all the barriers to implementing a CCA and actionable solutions to addressing those barriers.
Review of Other Programs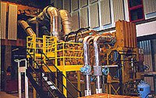 In October 2016, the City also posted a Request for Information (RFI) for purposes of gathering information and planning to reach the goal of 100 percent renewable generation included in the Climate Action Plan. The City would like to examine all options to increase the use of renewable energy and increase program, project, and financing options available to the City, its residents, and businesses. The RFI will provide information from stakeholders regarding program(s) that could complement, enhance, or substitute the CCA model. City staff will review responses to the RFI and provide next steps in a timely manner that complements the CCA feasibility study.
For more information, please contact Aaron Lu at [email protected].