Inspire
A sustainable future can only be achieved if we inspire today's youth and future generations to make more sustainable choices. Through public forums, our Green Schools and Youth Forum programs, and Sustainable Community Indicators, we use public outreach and education to help guide citizens to the best possible future.
The City of San Diego leads by example by creating models for sustainable living for future generations. Drawing on local, state and national resources, City staff creates, manages and implements programs that inspire young and old alike to get involved and take an active role in their communities.
Climate Protection Champion Awards
Winners of the second annual Climate Protection Champion Celebration were honored during a City Council meeting on Earth Day, April 22, 2008.
"We each have a role to play in reducing greenhouse gas emissions and preserving the environment for our children and grandchildren. These awards recognize the outstanding contributions of dozens of local companies and individuals who can inspire others to take up the cause of recycling and environmental protection," said Elmer L. Heap, Jr., Deputy Chief Operating Officer for Community Services.
The U.S. Mayors Climate Protection Agreement, signed in 2006 by Mayor Jerry Sanders, launched the City's Climate Protection Champion Award, which encourages businesses, nonprofit organizations and academic institutions to significantly reduce global warming emissions in the San Diego region.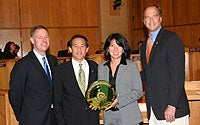 Bank of America announced a $20 billion environmental initiative in March 2007 to encourage development of environmentally sustainable business practices through lending, investing, philanthropy and the creation of new products and services. The bank awarded $500,000 in "Green Grants" in January 2008 to the San Diego Foundation's Climate Initiative, the San Diego Regional Economic Development Corporation, La Maestra, and the California Center for Sustainable Energy.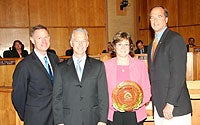 University of California San Diego recently became the first campus on the West Coast to join the Chicago Climate Exchange, North America's only voluntary legally binding trading system, to reduce emissions of greenhouse gases. As the first university in California to have been recognized by the California Climate Action Registry as a "Climate Action Leader," UC San Diego's goal is to become a living laboratory for climate solutions by being an early adopter of real-world tools and leading-edge technologies for San Diego and the global marketplace for successfully measuring, certifying and reporting its greenhouse gas emissions to the Registry and the public.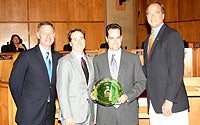 Amylin Pharmaceuticals employs a multi-pronged approach to reducing greenhouse gas emissions that includes financial subsidies for employees who use mass transportation, energy and water conservation programs, and the support of a company "Green Team" that seeks to continually improve the environmental programs.
Links and Resources