San Diego Green Students and Annual Youth Forum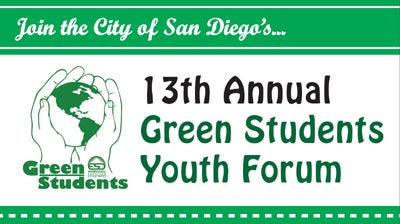 2013 Annual Youth Forum
Like Youth Forum on Facebook
On Saturday, March 23, 2013, students representing 23 San Diego County high schools arrived at the Energy Innovation Center to meet with locally elected officials and learn more about issues such as climate change, energy efficiency, and "green" career paths. Topics included water conservation, energy efficiency, recycling and repurposing.
Both entertaining and enlightening, City of San Diego Council President Todd Gloria, Council President Pro Tem Sherri Lightner, Councilmember Marti Emerald, and Councilmember Mark Kersey spoke about why they entered the political arena and their inspiring backgrounds. Mayor Bob Filner described his commitment to sustainability and our region?s environmental goals and challenges. A significant announcement was Mayor Filner's declaration to establish the City's first Youth Environmental Council, which was very well received by all the students.
Jordan Howard, a nationally recognized student advocate, was the keynote speaker. At only 20 years of age, Jordan has won many prestigious awards for her work in developing youth programs across the nation. Jordan?s inspirational speech summarized the Forum's purpose to encourage high school students to educate themselves on regional and global issues, such as climate change.
Regionally acclaimed "Chef Yapo" introduced students to the "Kitchen 360" concept, which values a zero-waste lunch, buying local, composting, and proving "eating sustainable" does not mean sacrificing taste and quality in any meal.
The workshops emphasized energy efficiency, renewable energy, and carbon footprint awareness, and included the following:
- Wind Turbines: Students designed and built their very own blade designs and were able to test their turbines and see the potential energy produced.
- Smart Home Tour and the Energy Innovation Center?s award winning "green" building features: Students were given a preview of the newest designs and innovations in green building design and technologies.
- Carbon Footprint Awareness: Students experienced an interactive computer simulation of realistic high school situations to prove how smart choices affect a person?s carbon footprint. The simulations created included: transportation to prom and an amusement park, a beach bonfire, and producing a concert.
The Careers Panel included: Linda Giannelli Pratt, the City of San Diego; Lianna Rios, San Diego Gas & Electric; and Jonathan Zaidman, 1:1 Movement. Students enjoyed the opportunity to speak to successful professionals representing the public, private, and non-profit sectors in the environmental field.
The event was featured on local media stations: Fox 5, SD-6, KUSI, and KGTV Channel 10.
This program is funded by California utility rate payers under the auspices of the California Public Utilities Commission (CPUC) and through a partnership with San Diego Gas and Electric.
2012 Annual Youth Forum
2011 Youth Forum
"Charting a Course to a Sustainable Future"
For more information contact the Environmental Services Department.