Impact Fees
San Diego Municipal Code §142.0640 provides for the assessment and administration of development impact fees. The purpose of assessing development impact fees is to implement the City's General Plan which contains policies related to the maintenance of an effective facilities financing program to ensure the impact of new development is mitigated through appropriate fees. Properties and land being developed in the City of San Diego are assessed a fee for public facilities. The fee is determined by the type, size, and location of the development for the building permit being issued. Monies collected are placed in a City special fund by community, to be used solely for those public facilities specifically defined or generally described in the Development Impact Fee Plan for each community.
Development Impact Fees (DIF) Development Impact Fees are assessed throughout the city employing two types of methodologies; FBA and DIF. A Development Impact Fee in an FBA community historically has provided 100% of funds for public facilities projects within that community and are identified in a Public Facilities Financing Plan (PFFP). The dollar amount of the DIF is based upon the cost of each public facility equitably distributed over the remaining development in the community planning area. 
In urbanized communities which are near buildout, as defined in the City's General Plan, Development Impact Fees are collected to mitigate the impact of new development through provisions of a portion of the financing needed for public facilities identified in the Impact Fee Study (IFS), and to maintain existing levels of service for that community. Upon determination of the community buildout population, the estimated cost to construct the facilities is divided amongst residential and nonresidential development.
Development Impact Fees are one-time payments that must be paid prior to building or construction permit issuance. To learn more about payment of DIF, review

Municipal Code Section 142.0640. The General Plan – Public Facilities, Services, and Safety Element contains a map displaying

Community Planning Areas by Financing Type (FBA and DIF).
Regional Transportation Congestion Improvement Program Fees (RTCIP) This fee is applicable only on new residential development. On-site Affordable (low income) units may be exempt from the RTCIP fee. The fees was established to ensure that new development directly invests in the region's transportation system to offset the negative impact of growth on congestion and mobility. To learn more about the City of San Diego RTCIP Funding Program, review the latest adopted program.
Housing Impact Fees (HIF) The fee is are collected for non-residential development and must be paid prior to the issuance of building permits. This fee is deposited into the San Diego Housing Trust Fund to meet, in part, affordable housing needs in San Diego. To learn more about payment of Housing Impact Fees, review Municipal Code Section 98.0610.
School Impact Fees For information on School Impact Fees in the San Diego Unified School District area, please call (619) 725-7529.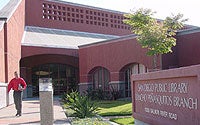 Rancho Peñasquitos Library
In addition to the information provided below, please be sure to visit Development Services for additional fees that may also apply.