Fire/EMS 9-1-1 Computer System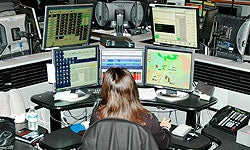 The Emergency Command and Data Center relies on a Computer Aided Dispatch (CAD) system developed by Tritech Software Systems. This software is integrated with several interfaces:
Paging/Fire-Station Alerting
Each engine or truck and each paramedic in an ambulance carries a pager that displays the information a unit needs to respond to a call. Fire Station Alerting is the audible tone that goes off in the station to alert units that they have an emergency.
Mobile Display Computers
Laptops on Fire/EMS apparatus display the information for a response and allow units to make instant status changes such as, "responding to incident" or "unit at scene".
Automatic Vehicle Locators
Satellite controlled vehicle locators that track each Fire/EMS unit's location on an interactive geographical mapping system. This program allows the dispatcher to "see" the status and location of all vehicles on the map (Is the engine sitting in the station or at an incident?). This ensures that the closest, most appropriate units(s) are sent to the emergency.
Enhanced 9-1-1
A phone system which displays the phone number and address of the calling party. Remember, when you use your cell phone to call 911, it will only display the location of the closest cell tower! Your address is only visible to us when you call 911 from your house phone. VOIP phones are also different from traditional house lines.
State-of-the-Art Mapping
The Tritech CAD uses the VisiCAD Explorer to track and control information from a detailed geographical map. The City of San Diego has varied topography which can affect which Fire/EMS units are sent to an incident. The dispatchers' computer terminals display detailed geographic information such as:
Streets
Canyons
Runways
Railroad tracks
Rivers
Lakes
Common locations are also displayed on the map such as:
Fire stations
Libraries
Schools
High rise buildings
Shopping malls
Special access areas such as river rescue locations