Logistics Division
The San Diego Fire-Rescue Department Logistics Division provides multiple services in support of the department. A dedicated staff of both civilian and sworn personnel provides supervision and direct action to keep Fire-Rescue operational. These areas include:
Facilities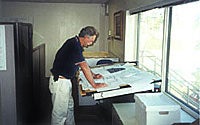 The Facilities Division is responsible for overseeing the repair maintenance of more than 63 facilities, including 48 fire stations, 16 lifeguard stations, a training facility, a communications center and Fire Headquarters. In addition, the Division administers the long-term planning of new department facilities and infrastructures through capital improvements, which includes:
Overseeing of the programming, design, construction, remodel, demolition, maintenance, repairs, and the associated contracts of fire and lifeguard facilities;
Responding to all facilities maintenance and repair requests 24 hours, 7 days a week;
Presenting to community groups and other stakeholders regarding department facility projects;
Responding to and providing support for large logistical emergencies under the National Incident Management System (NIMS);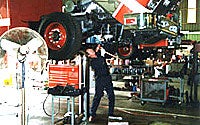 Fleet
Specification development, procurement and upfitting of all new vehicles is performed by Fire-Rescue personnel.
In a partnership with the city's Fleet Services Division, heavy fire apparatus maintenance and repair is provided for more than 150 diesel-powered emergency apparatus and support vehicles.
A Battalion Chief serves as the Fleet Liaison Officer to interact with Fleet Services on the fire department's behalf. This includes the additional 200 light Fire-Rescue vehicles serviced throughout the city.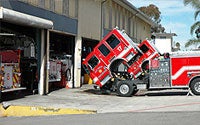 Equipment/Supply Center
The Supply Center inventories equipment required for firefighters to perform their duties. The storeroom is managed by an Equipment Manager.
The Fire Logistics Supply Center is responsible for: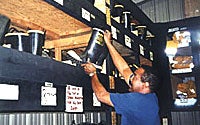 Inventory, distribution, and tracking of all fire apparatus equipment;
Inventory, distribution and tracking of all personal protective equipment worn by firefighters while performing their duties;
Developing specifications and evaluations for fire equipment and personal protective equipment;
Annual testing and/or calibration of various equipment and personal protection equipment (such as gas detectors, firefighting garments, fire hose, self-contained breathing apparatus (SCBA);
Distributing station supplies, inter-office mail and the transfer of equipment and materials between stations and departments.
Providing 24/7 emergency logistical support for fire emergency incidents.