History
Prior to 1970, the San Diego Police Department performed basic emergency medical transportation in converted station wagons and vans equipped with minimal medical supplies. The service was little more than loading the patient and driving as fast as possible to the hospital for medical attention.
In 1972, the U.S. Department of Health, Education and Welfare designated San Diego County as one of five areas in the nation to become an Emergency Medical Services demonstration project. Over the next five years the County used federal funds to plan and implement a new system including:
Development of a regional trauma center at University California, San Diego Medical Center
Establishment of an emergency and non-emergency ambulance system
Development of Emergency Medical Technician training at community colleges
City of San Diego Develops Emergency Medical Services
In 1979, the City of San Diego began providing citywide professional emergency medical services through a contracted paramedic ambulance company. Additionally, the Fire Department provided some first responder service. Over the years, the Fire Department increased the number of communities in which it provided first responder service while the City continued to contract private providers such as Medevac and Hartson for paramedic ambulance coverage.
In the 1980s and 1990s the City moved its EMS program to the forefront:
In 1980, the San Diego Fire Department undertook a two-year program to train all its firefighters as Emergency Medical Technicians.
In 1985, Fire Department dispatchers became one of the first dispatch groups in the nation to undergo Emergency Medical Dispatch training in 9-1-1 telephone triage and pre-arrival instructions.
In 1988, San Diego was the first large city in the country to implement an early defibrillation program, placing defibrillators on all first responder engines and trucks providing firefighters a valuable tool in combating heart attacks.
In 1991, the City placed firefighter/paramedics on select engines in high risk areas (an area geographically difficult to serve with historically long ambulance response times).
The Country's First EMS Public-Private Partnership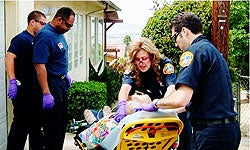 In 1997, the San Diego Fire-Rescue Department partnered with Rural/Metro of San Diego to form San Diego Medical Services L.L.C., the nation's first public-private partnership to provide 9-1-1 paramedic service.
Emergency Medical Services are coordinated between the City's first responders and the transporting ambulance crews.
Both fire and ambulance crews are using the same equipment and working under the same medical guidelines.
The City of San Diego's Emergency Medical Services continue to improve. Through increased training and technological advances, San Diego residents now receive the most advanced mobile emergency medical treatment possible.