Joyce Singer Abrams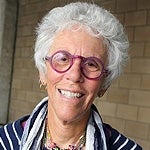 Joyce Singer Abrams is a San Diego native, born and raised in North Park.  With a B.A. and M.A. from San Diego State University, Abrams was an elementary school teacher for 41 years, having taught early admission kindergarten through eighth grade, with an emphasis in gifted and talented youth.  She was active in promoting teacher rights through union board membership as well as serving the state of California on the Committee on Accreditation, in Sacramento, for 12 years.
Representing District 1 on the City of San Diego's Commission on Gang Prevention and Intervention, Abrams focuses on promoting a more coordinated and collaborative effort between the City and other providers. Positive and increased participation of youth through opportunity and education is a key goal.
She has served lengthy terms on the city of San Diego's Senior Citizen's Advisory Board, the Human Relations Commission and the Community Development Block Grant Committee, believing that citizen participation is the key to successful government.