Ray King
Community-Based Organization Seat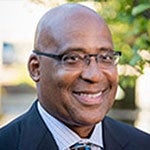 Ray King currently serves on the UCSD Chancellor's Community Advisory Board and is President and CEO of the Urban League of San Diego County. Since joining the Urban League, he has emphasized youth education programs aimed at enhancing academic performance and reducing the drop-out rate. He is particularly focused on the role of community-based organizations in developing systems and programs to assist youth launch successful careers.
The Urban League offers mentoring, tutorial and parenting classes and has initiated the Urban Youth Empowerment Academy to promote and develop a universal standard of behavior in support of academic excellence and civic engagement.
King previously served as Maritime Operations/Marketing General Manager with the Port of Oakland. Prior to joining the Port, King worked as a senior consultant with an accounting and consulting firm in San Francisco. He holds a master's in business administration from the Stanford Graduate School of Business.