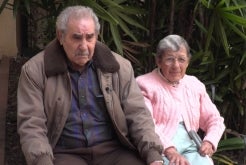 92-year-old Mike DiMaggio has no qualms about telling people he met his wife Jackie on a Greyhound bus.
"I was going to see my brother who was in the military up at Terminal Island," he said.
Jackie, who is also 92 years old, was headed that way too. Surprisingly she knew his...