Ocean Science Education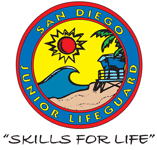 This summer, San Diego Junior Lifeguards will continue to offer its Ocean Science Education (OSE) program for 9 to 11 year olds.
The cost of the program is $525 and provides JGs the opportunity to spend the full day in the ocean environment learning and improving their physical skills. Enrollment in the OSE program is open to C level junior lifeguards. Enrollment for this program can be completed during the JG registration process.
During this four-week program, students will learn oceanography, marine biology, visit tide pools, analyze water samples, work with underwater remote operated vehicles and have fun. The OSE program is instructed by certified teachers. This unique curriculum was developed under a California Coastal Commission Whale Tail Grant and has been running for the last three years. The OSE program follows the same schedule and locations each day as the San Diego Junior Lifeguard Program.
Please visit the San Diego Junior Lifeguard Foundation website for additional information about the Ocean Sciences Education Program.
Session 1: Thursday, June 23 through Wednesday, July 20, from 8:30 a.m. to 12 noon.
Session 2: Monday, July 25 through Friday, Aug. 19, from 8:30 a.m. to 12 noon.
**There will be a supervised lunch period from noon to 1 p.m. for students who are registered in the Junior Lifeguard PM Sessions.