FOR IMMEDIATE RELEASE
Monday, April 12, 2021
CONTACT:
MayorPress@sandiego.gov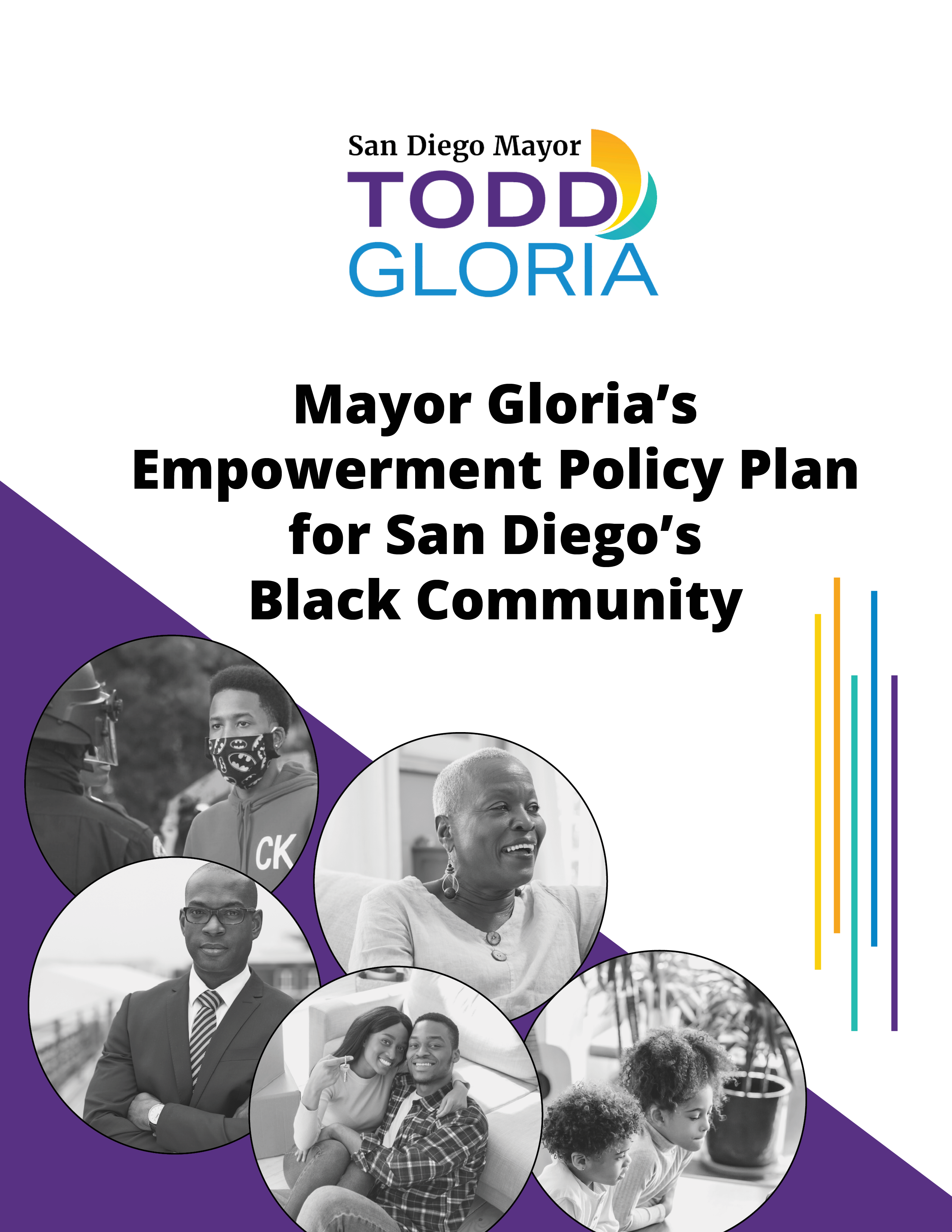 SAN DIEGO – As part of his commitment to create a more equitable and inclusive city that addresses systemic injustices experienced by many San Diegans, Mayor Todd Gloria today announced an empowerment policy plan for San Diego's Black community.
With the full support of his Black Advisory Group, Mayor Gloria's plan is designed to ensure greater diversity, inclusion, and equity in San Diego for the Black community.
"Systemic problems remain within our nation that have often left Black communities disenfranchised and disregarded," Mayor Gloria said. "With the help of my Black Advisory Group and community members, we have developed a framework to tackle some of our Black community's most pressing issues. This plan will create opportunities for the Black community to thrive today and for generations to come."
"For far too long, we have seen the devastating impacts of systemic racism on the Black community in housing, police practices, environmental injustices, and a lack of access to quality health and educational resources," said Councilmember Monica Montgomery Steppe, chair of the Committee on Public Safety and Livable Neighborhoods. "The Mayor's Plan takes a crucial step in amplifying the decades-long efforts of many community activists, advocates and allies in the movement to dismantle the policies in our region that have harmed Black people, and I look forward to continuing my work to address the disparate treatment of our communities of concern."
Representing about 6% of San Diego's population, Mayor Gloria has made it a priority to work together with the Black community to develop a set of policies aimed at empowerment and upward mobility.
Mayor Gloria's Empowerment Plan for the Black Community:
Pushes for economic mobility,
Addresses housing and homelessness,
Speaks to the need for police reform,
Addresses the disparate impacts of climate change on communities of color,
Speaks to the need to eliminate educational barriers,
And addresses health disparities in the recovery from COVID.
The full plan can be

found here.
Here's what members of Mayor Gloria's Black Advisory Group had to say about the empowerment plan:
Armand King, CEO of Paving Great Futures:
"I'm in support of the Mayor's Plan for the Black Community. We appreciate Mr. Gloria's caring efforts for our community. Thank you for including us in this discussion. We look forward to the near future and the positive change this will bring."
Walter Lam, President & CEO of Alliance for African Assistance:
"We are excited about the Mayor's plans for our community. I am hopeful it will address and resolve a lot of issues that we are currently dealing with."
April Laster, Founder of Open Heart Leaders:
"It is my absolute pleasure to lend my support to Mayor Todd Gloria in presenting this plan for the Black community. As we advance towards more action in creating equity for the Black community it will be an honor to know that the decisions and plans presented were carefully thought out and accepted as ways to achieve this goal. We hope that in light of all that is going on, that the community supports the board in patience and understanding as we proceed to change the narrative of the Black community."
Francine Maxwell, President of the NAACP San Diego Branch:
"As a native of San Diego this is the first time, I have interacted with a mayor who has identified the need to focus some of the City's resources to address issues specific to African and African American residents. I appreciate the effort being put forth by Mayor Gloria on the heels of the recent audit that revealed the inequities in race and gender compensation within several City of San Diego departments. It is exciting to note that the City will lead by example by starting with its hiring/promotion practices as it relates to our Black employees knowing that it will lead to economic equity."
Pastor Glenn McKinney, St. Stephens Church of God in Christ:
"It is truly an opportune time for these key issues to be collectively addressed and this new inclusive leadership is showing that Mayor Gloria is up for the challenge. In my line of work, I find the youth development and homeless population care must be primary and community operators need to be priority funded first. This will help alleviate the trauma that so many in the underserved African American community have suffered. Mayor Gloria bringing the power of his office to address these issues has delineated a plan that will positively affect the whole community for years to come."
Pastor Nate Stewart, Greater Life Church of San Diego
"I'm honored to be a part of Mayor Gloria's Black Advisory Board and I fully embrace and endorse his plan to make San Diego's Black community a priority. I look to do my part in making sure this plan is executed with passion, consistency and excellence."
Pastor Harvey L. Vaugh, III
As the Pastor of the oldest African American congregation in San Diego, it is with great confidence that I support Mayor Gloria's policy plan, designed to implement equity and inclusion for those San Diegans I represent!  It is my pleasure to partner and collaborate with Mayor Gloria and the other appointees to this advisory group to make substantive changes that will impact the Black community, positively!
###