City-County Agreement Calls for Parties to Split Costs on Stadium Consultants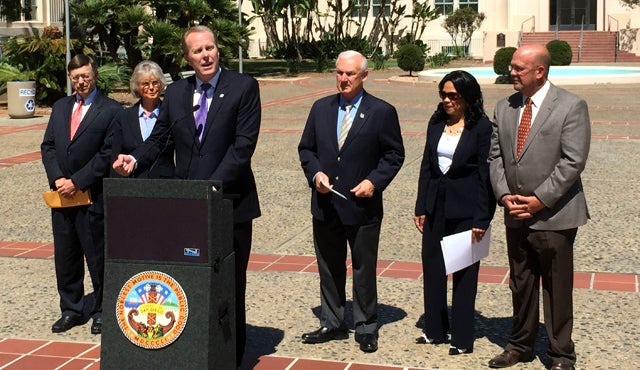 Thursday, March 26, 2015 - NEWS RELEASE
San Diego, CA - Today Mayor Kevin L. Faulconer, City Attorney Jan Goldsmith, San Diego County Supervisors Dianne Jacob and Ron Roberts, and City Councilmembers Myrtle Cole and Scott Sherman announced a partnership between the City and County to work collaboratively and share consultant costs for a potential new stadium for the Chargers.
"Positive momentum is building for a fair and responsible stadium plan," Mayor Faulconer said. "This partnership will make it official that the entire San Diego region is united and making progress toward a real solution that will garner broad public support."
The Memorandum of Understanding between the City and County authorizes the offices of the City Attorney and County Counsel to cooperatively work together and engage expert consultants to assist them in understanding and developing possible stadium financing options and related development, improvement and financial issues, ownership and operating frameworks, and to provide advice to their respective governing bodies.
"Clearly, having our own experts on board to evaluate a potential new stadium is critical to protecting the interests of county taxpayers," Supervisor Roberts said. "Should the Board of Supervisors ultimately decide to participate in building a new stadium, it is imperative we understand all of our options as well as potential risks. I'm confident my colleagues will agree that hiring top-notch outside assistance is the right way, and the smart way, to build that crucial understanding."
The City and County will each pay half the costs for the retention of consultants, attorneys and other experts in stadium financing and development matters. The City and the County shall each not contribute a total of more than $250,000.
"While I'm a longtime fan of the Chargers, I look at this as a business decision first," Supervisor Jacob said. "I've said it for years and I'll say it again today: If county government puts skin in this game, we must make sure that any agreement with the Chargers is a good deal for taxpayers. That's my bottom line."
City Attorney Goldsmith said, "We are putting our negotiating team together and we are willing to work hard to negotiate a fair deal with the Chargers, but the final say will be up to the voters."
The Board of Supervisors and the City Council are expected to vote on the agreement in early April.
Mayor Faulconer had previously appointed a nine-member group of civic leaders - the Citizens' Stadium Advisory Group - to advise him on the best location for a new stadium and how to pay for it. The group recently chose the current Qualcomm Stadium site in Mission Valley as the best location and plans to release a proposed financing plan in May.
"The San Diego Chargers are an important asset for the entire County, not just the City," said Councilmember Sherman, who represents Mission Valley. "In order to keep our team in the region, it is important that the City and County come together to find the best deal for taxpayers and the NFL. This MOU is an important step in the right direction."
In addition, the City also issued a request-for-proposals for an investment banker to validate any financing options included in a stadium plan. Five firms responded and the City is expected to select one in April. The selected firm won't receive any compensation unless a stadium deal is successful.
"I am pleased to join Mayor Faulconer and other esteemed elected officials to announce the MOU between the City and the County that will bolster our efforts to keep the Chargers in this great city for generations to come," said Councilmember Cole, Chair of the Council's Economic Development & Intergovernmental Relations Committee. "I understand the economic benefit of keeping the Bolts in this city. We want a stadium that residents can be proud of and can successfully compete for world-class sporting and entertainment events."
CONTACT: Craig Gustafson at (619) 453-9880 or [email protected]