Mayor Faulconer, Civic Leaders & San Diego Neighborhood Residents Rally Against AB 504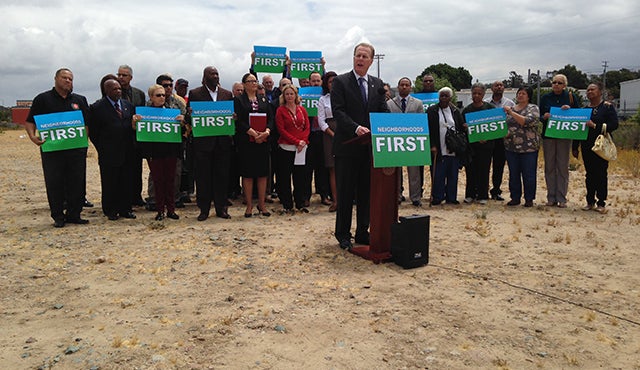 Wednesday, May 6, 2015 - NEWS RELEASE
San Diego, CA - As the California State Assembly Committee on Local Government considers Assembly Bill 504, Mayor Kevin L. Faulconer joined a coalition of civic leaders and community residents in a rally against the bill, which thwarts the ability of Civic San Diego to revitalize urban neighborhoods.
Mayor Faulconer said, "For a long time now, Civic San Diego has served as catalyst for positive change in San Diego. We can't let Sacramento stop our progress with one unnecessary bill. As this bill makes its way to the Assembly and Senate floor, I want to make sure Sacramento legislators hear the voices of San Diegans who need this program to continue."
Aimee Faucett, Executive Vice President & Chief Operating Officer of the San Diego Regional Chamber said, "The Chamber is proud to support Civic San Diego and the work they have done to advance affordable housing and the redevelopment of our downtown business district. Instead of getting rid of Civic San Diego, other areas in the state should seek to replicate the successful, efficient, and innovative model we have in San Diego."
Claudine Scott, a resident of East Village San Diego, said, "Civic San Diego is playing a key role in the rebirth of Downtown's East Village. Their efforts have transformed our Downtown from a drain on the city into an economic generator with safe and clean neighborhoods that thousands of residents call home. AB 504 would undermine those efforts at a time when urban neighborhoods are depending on them most. We urge California legislators to help empower our urban communities, not bring them down."
For years Civic San Diego has been a city-owned entity, which helps to revitalize San Diego's urban neighborhoods, provide affordable housing and nurture small businesses. Civic San Diego helped attract billions of dollars in investment, created tens of thousands of jobs and helped build more than 6,000 units of affordable housing for San Diego.
Unfortunately, AB 504 would add unnecessary hurdles to the City of San Diego's planning process and tack on extra layers of bureaucracy to communities that are in dire need of revitalization and development, such as Encanto. While proponents of the bill claim that it would help provide proper oversight to Civic, the bill would actually stymie the development process and create uncertainty that would scare off investors in San Diego urban communities.
Civic San Diego has long been structured to provide accountability to our local elected leaders, with the organization's board members are nominated and appointed by the mayor and city council. Civic San Diego's contract is also managed by the city's Economic Development Department. In fact, Sacramento's Legislative Counsel Bureau, which is the nonpartisan public agency that prepares legal opinions and provides legal services to the state legislature, wrote in a recent opinion on AB 504 that "it is also our opinion that a city may, and the Legislature may authorize a city to, by contract, delegate to a nonprofit corporation the performance of certain functions so long as that delegation does not constitute a surrender or abnegation of the city's police power."
CONTACT: Charles Chamberlayne (619) 453-9911 or [email protected]