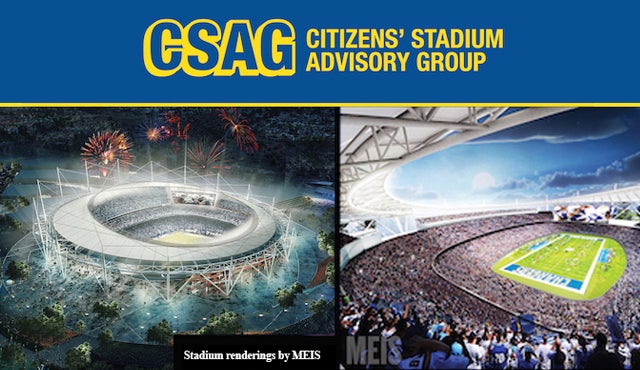 Friday, May 18, 2015 - NEWS RELEASE
San Diego, CA - Today Mayor Kevin L. Faulconer released the following statement on the final report by the Citizens' Stadium Advisory Group:
"San Diego has come together since we began this path toward a new stadium. Despite so many dramatic changes and potential distractions, both here and elsewhere over the last four months, our community rallied and kept moving forward. Today, San Diego has a framework to build a new stadium that's tangible, that's achievable and that won't raise taxes."
I thank each volunteer who has served on the Citizens' Stadium Advisory Group for their diligent and careful efforts on behalf of their fellow San Diegans. They have shown the spirit of optimism and determination that makes San Diego great.
We are now ready for another first - beginning formal negotiations with the Chargers. The County and City of San Diego have, for the first time, assembled an experienced negotiating team that will review the CSAG report as it prepares for talks with the team. Earlier today I communicated to Chargers owner Dean Spanos that the City/County team and City Attorney Jan Goldsmith are ready to sit down and negotiate. I'd like to start by June 1. San Diegans deserve a good and fair deal, and I will not accept or support anything less.
My continued commitment is that if we reach a stadium agreement with the Chargers, San Diegans will have their say with a public vote. When this measure will be on the ballot will be discussed through negotiations with the team.
As we all begin to review the details of the CSAG report, one thing is clear: we're all in this together. The Chargers are beloved by generations of San Diegans. San Diego has worked in good faith with the team and the NFL and will continue to do so. I am confident that if the team comes to the table with a willingness to work together, we will get this done for the benefit of our community, with protections for taxpayers and for the enjoyment of future generations.
Read the

full report.
CONTACT: Craig Gustafson (619) 453-9880 or [email protected]