San Diego Region Mayors Unite to Promote Conservation as State-Mandated Water Cuts Start Today
Mayors Ask Residents to Reduce Outdoor Irrigation, Take Advantage of Conservation Programs Amid Historic Drought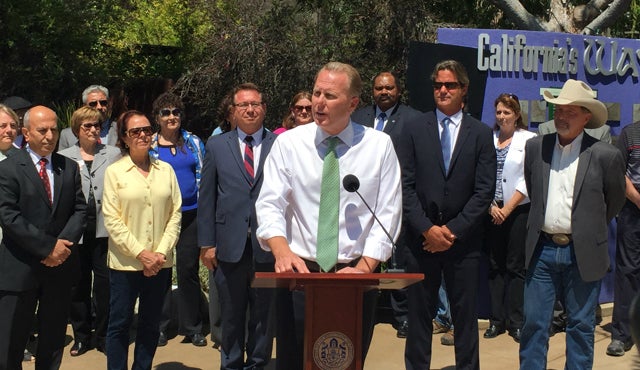 Monday, June 1, 2015 - NEWS RELEASE
San Diego - In response to the state mandate to reduce water usage, Mayor Kevin L. Faulconer and several of the San Diego region's other mayors united Monday to urge residents to step up their water conservation efforts by reducing outdoor irrigation and taking advantage of conservation programs.
"There is no greater challenge facing the state than the ongoing drought and we all must do our part to conserve water," Mayor Faulconer said. "As mayors, we know that we're all in this together and we will work together to reduce water usage throughout the San Diego region. The easiest way to save water is to scale back on watering of outdoor lawns."
As the fourth straight year of drought conditions continues, the state has set various water reduction mandates for individual cities and water districts, ranging from 12 percent to 36 percent, with the City of San Diego set at 16 percent. The mandates begin today and remain in effect until February 2016. Agencies that don't comply face daily fines of up to $10,000.
Most water experts agree that reducing outdoor irrigation - which accounts for roughly 50 percent of residential water use - provides the most effective path to meeting those mandates. The County Water Authority recently approved new rules that restrict outdoor irrigation to two times each week countywide and the City of San Diego is crafting an ordinance to enforce that new rule.
Standing at The Water Conservation Garden in El Cajon, Mayor Faulconer was joined by El Cajon Mayor Bill Wells, Encinitas Mayor Kristin Gaspar, Escondido Mayor Sam Abed, Imperial Beach Mayor Serge Dedina, Lemon Grove Mayor Mary Sessom and Poway Mayor Steve Vaus. They urged their residents to adhere to the new two-days-a-week outdoor watering restriction and to take advantage of available conservation programs, including turf replacement rebates and free water surveys.
"I have no doubt that the people of San Diego County will rise to the challenge of water conservation for as long as is needed," Mayor Wells said.
The five-acre Water Conservation Garden, which is funded in part by the City of San Diego, showcases water conservation through a series of themed water-wise gardens and exhibits on artificial turf, mulch and irrigation. Public admission is free.
"It is critical that everyone in San Diego County help to conserve water," Mayor Dedina said. "There is nothing more effective in doing this than reducing outdoor irrigation and turning lawns into water conservation gardens that are beautiful to look at. At the City of Imperial Beach, we are in the process of transforming grassy areas into drought tolerant and native plant gardens in order to play our part in water conservation."
Mayor Vaus added, "This is a critical challenge we face. With no end in sight to the drought, every gallon we save today will be desperately needed in the future."
Mayor Sessom said, "The City of Lemon Grove no longer has it acres of dairy farms and lemon orchards, but it is still green and moving. We can keep it that way by understanding how we use our water in our homes through free water surveys and taking advantage of rebates, such as those for turf replacement."
There are a host of resources throughout the region to help residents conserve water. For example, the City of San Diego offers:
Free-of-charge water surveys. A Water Conservation representative will tour your property to identify leaks and water-saving opportunities. Participants can receive free water-saving equipment, including low-flow showerheads and faucet aerators, among other things.
Rebates for rain barrels that catch and store rain water.
Rebates for removal of a grass lawn that is replaced with water-wise plant material.
Rebates for converting an overhead spray sprinkler system to low application rate micro-irrigation (i.e. drip, micro-spray, etc.).
Free mulch. City residents can get up to two cubic yards of mulch from the Miramar Greenery.
Applications for City of San Diego rebates will be accepted when the City's new budget goes into effect July 1, 2015. Mayor Faulconer has included $1.15 million for grass lawn replacement rebates in his budget proposal. For more information on those and other City programs, go to wastenowater.org.
For more information on resources outside of the City of San Diego, go to socalwatersmart.com. Rebates are currently available from the Metropolitan Water District and San Diego County residents are encouraged to apply.
CONTACT: Craig Gustafson (619) 453-9880 or [email protected]