City, County Leaders Announce Forward Momentum on New San Diego Stadium
Draft Environmental Impact Report Complete and Available Today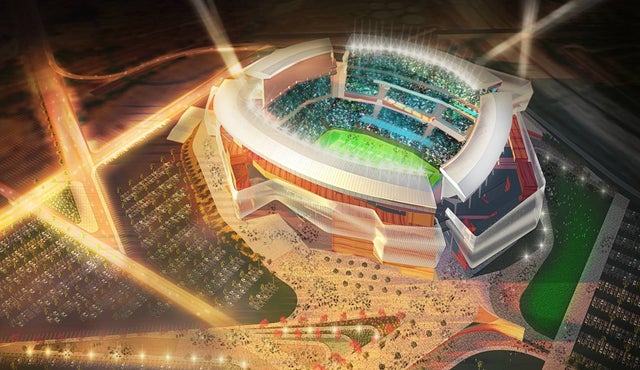 Monday, Aug. 10, 2015 - NEWS RELEASE
San Diego - Leaders from the City and County of San Diego today announced that San Diego's stadium plans are on track, and that a January special election is possible if the Chargers return to the negotiating table and agree to financial terms by early September.
Progress comes in three main areas:
The draft environmental impact report for a new stadium in Mission Valley is complete and available online.
San Diego released a conceptual stadium design by Populous, a world-renown architectural firm hired by the City that has designed stadiums for five of the six National Football League team owners on the Los Angeles relocation committee
City and County leaders announced a financing concept to build a new stadium without raising taxes, subject to voter approval.
"San Diego's stadium plans are on track thanks to our continued regional cooperation and the work of dozens of experts," said Mayor Kevin L. Faulconer. "A new stadium means new opportunities. This is an opportunity to replace an aging facility with a world-class sports and entertainment complex that's an asset to our community, and to forge a new agreement with the Chargers that's a better deal for taxpayers over what we have currently."
"The release of this draft environmental impact report proves that at least one San Diego team can deliver on its promises," said County Supervisor Ron Roberts. "Under Mayor Faulconer's leadership, we remain extremely well positioned to negotiate with the Chargers a stadium deal that will meet the NFL's timeline."
"If the NFL wants a franchise in the nation's 8th largest city, we have demonstrated we can move quickly toward a public vote meeting the NFL's timetable," said City Attorney Jan Goldsmith.
The announcements in San Diego came as City-County negotiators and staff met with an NFL owners committee in Chicago to update them on the environmental report, stadium design and financing concepts.
Representing San Diego in Chicago was Chris Melvin from law firm Nixon Peabody, Bill Corrado from Citigroup, Dan Barrett from consulting firm Barrett Sports, Jon Knight from design and architectural firm Populous, the Mayor's Chief of Staff Stephen Puetz and Director of Land Use and Environmental Policy Mike Hansen, and David Smith from San Diego County Counsel.
The new San Diego multipurpose sports stadium would be capable of hosting professional and amateur sports, entertainment, cultural, and commercial events at a modern and vibrant sports and entertainment center for the benefit of the San Diego region.
Details about San Diego's progress and links to the draft environmental impact report, images of stadium design concepts and presentation to the NFL are below.
I. San Diego's Stadium Plans Are on Track: Draft Environmental Impact Report Complete and Available Online
Today the City posted online the draft environmental impact report for a new stadium. City-hired planning firm AECOM has assembled about 100 technical experts and planners to complete the draft report on time for a January election.
"I thank the dozens of scientists and other experts who have today produced a draft environmental impact report," said City Attorney Goldsmith. "It will now be available to the public, which will result in revisions and potential corrections, as is the case with every draft environmental impact report. Our office will provide legal review so that a final environmental impact report can be presented to the City Council on schedule. But, at this point, the ball is in the NFL's court on whether they want a franchise in the nation's 8th largest city. We look forward to hearing from them."
The public will have the opportunity to provide the City with comments on the study. The City will use the feedback to update and further refine the report. The final environmental impact report is scheduled to be presented to the City Council in October.
The stadium project would demolish the 48-year-old existing stadium and develop a new fixed roof multipurpose sports and entertainment complex.
The draft report is a key document for constructing the new facility within the existing developed footprint of the Qualcomm Stadium property. The new stadium would have a normal capacity of up to 68,000 seats and could be designed to expand to approximately 72,000 seats for special events, such as the Super Bowl. The demolition of Qualcomm Stadium is also analyzed in the draft report. The draft report studies the project's impacts on air quality, noise, traffic and other issues.
II. Veteran Architects for NFL Stadiums Create San Diego-Inspired Stadium Design
Conceptual renderings for a new San Diego stadium were prepared by Populous, a global architectural firm hired by the City that has designed stadiums for the National Football League, Major League Soccer, the 2012 Olympic Games in London and more. Populous has designed new and renovated stadiums for five of the six NFL team owners on the Los Angeles relocation committee: the Carolina Panthers, Houston Texans, Kansas City Chiefs, New England Patriots and Pittsburgh Steelers.
"Our inspiration comes from celebrating San Diego as a city of villages," said Jon Knight, Senior Principal at Populous. "It incorporates San Diego's ocean and harbor experience, proud Naval and Marine heritage, and the dynamic look and feel of the ocean's waves."
The renderings show a venue that could be used for NFL games, concerts, civic events and other major events, including soccer games, San Diego State University Aztecs football games, the Holiday Bowl and Poinsettia Bowl.
The new stadium would include energy efficiency, water conservation, low-impact development and other green-building practices, which would be incorporated into the final design to achieve a minimum Leadership in Energy and Environmental Design (LEED) Gold rating.
III. New Stadium, New Opportunities: Financing Concept for a Fair Stadium Agreement
Qualcomm Stadium is owned by the public, and under existing agreements taxpayers are responsible for 100 percent of the cost for repairing the aging facility. The financial concept announced today for a January election fixes this by putting a strict cap on the public contribution, making the Chargers responsible for operating and maintaining the new stadium and ensuring taxpayers are not on the hook for cost overruns.
"A stadium plan must be good for taxpayers and our community, and I won't accept anything less," said Mayor Faulconer. "This fair financing concept created with the input of our negotiating experts includes safeguards to protect taxpayers and is a vast improvement over what we have. We are prepared to submit it to voters if the Chargers agree to the terms, but not a dime will be spent on construction until the voters approve it."
Existing Agreement: No Cap on Costs to Public, Taxpayers Responsible for Hundreds of Millions of Dollars in Operations and Repairs
Under the current agreement with the Chargers, the City is responsible for all costs related to stadium operations, repairs and capital improvements. As a result, taxpayers spend millions of dollars each year to operate and maintain Qualcomm Stadium, and will spend up to $282 million (in present value) over the next 20 years to subsidize the facility, according to a recent report by the City's Chief Financial Officer.
The figure does not include any potential amenity upgrades such as improved audio/visual equipment, bathroom and kitchen overhauls, suite upgrades, or other improvements to enhance the public experience during events.
A Better Deal for Taxpayers: Financial Concept for a New Agreement
A new stadium and a new agreement with the Chargers is an opportunity to get a better deal for taxpayers. The financial concept announced today has four main elements, and is specific to negotiating an agreement with the Chargers under the January deadline set by the NFL.
No new taxes on San Diegans
Protections for taxpayers: Cap on public funds, Chargers responsible for cost overruns and stadium operations/maintenance
Two dollars in private money for every dollar in public funds
Requires voter approval
To hold a special election on January 12, the last day to submit a financial agreement with the Chargers to the City Council is September 11. Mayor Faulconer will not ask the City Council to call a special election unless there is an agreement. A Mission Valley stadium plan could appear on the regular election ballot in June or November 2016 if the NFL changes their current timeline.
The financing concept calls for the Chargers to be responsible for stadium operations, maintenance, future capital improvements and all construction cost overruns, in exchange for naming rights and revenue from stadium operations. The sale of personal seat licenses and funds from the NFL make up the remainder of the private contributions. The public contribution would come from the City and County of San Diego.
More Private Money, Less Public Funds Compared to Other Stadiums
Not only does the financing concept improve upon the current stadium agreement, but it also compares favorably to stadium deals across the country. The average public contribution for the last five NFL stadiums built is 48 percent. San Diego's financing concept caps public contributions at 32 percent.
Press materials
Draft environmental impact report
Stadium design images by Populous architects

Full presentation to the NFL owners Los Angeles relocation committee

Fact sheet